Live reviews:
2015-05-06 St. Vitus Show Review at the Obelisk
2015-04-29 5th Quarter Show Review at Doomed & Stoned
2012-07-22 DOTD II Review at Metal Kaoz
2012-06-19 DOTD II Review at the Obelisk
Recent Interviews:
2015-02-01 Lords of Metal Interview
2014-10-03 Doomed & Stoned Interview
2014-09-20 Hellride Music
2014-09-02 Underground Musick Zine
2012-05-10 "5 Questions of Doom" with Doomantia
Reviews for "Of Woe and Wounds"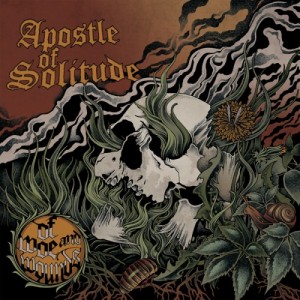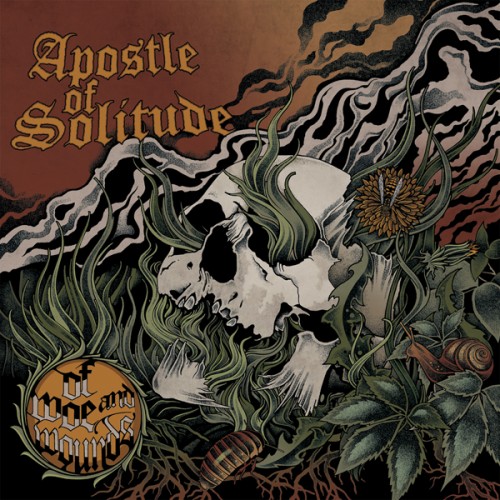 http://www.teethofthedivine.com/reviews/apostle-of-solitude-of-woe-and-wounds/
Indianapolis doomsters Apostle of Solitude have been active for the past decade, establishing themselves as an underrated but respected force on the doom scene. 2010's Last Sunrise, the band's impressive sophomore album, was worthy of high praise due to its potent blend of emotion, melodicism, catchy songwriting and sonic heft. The band's doom formula is heavily indebted to the genre's traditional values and influences, yet their sound remains unmistakably modern. Sure there a nods to heavyweights such as Saint Vitus, Solitude of Aeturnus, The Gates of Slumber and the vastly underrated and sadly defunct Abdullah, but Apostle of Solitude have transcended their influences and established their own distinct identity in the modern doom landscape. Third album Of Woe and Wounds doesn't really mess with the band's well established formula. Yet despite the familiarity in tone following a four year gap between albums, Apostle of Solitude return recharged and equipped with a fresh batch of invigorating, expertly crafted melodic doom gems.
Of Woe and wounds is abounds with fat bluesy doom riffs, earth rumbling rhythms and dark soulful leads, topped off with the emotive, gritty melodic vocals of Chuck Brown (also on guitar). Of Woe and Wounds only reinforces the band's strengths with top notch performances, excellent writing and swift execution that smacks of a band with intuitive chemistry and some seriously good instrumental chops. Regardless of whether you're down with Apostle of Solitude's brooding style of melo-doom or not, they could never be accused of being dull in the songwriting department. Apostle of Solitude thrives on dynamics without diluting the thick doomy core of their signature formula. Lead heavy cuts like the Sabbathian march of "Lamentations of a Broken Man" and bruising melancholic lurch of "Luna" finds the band relishing in their trad-minded brand of doom misery. While the tone remains satisfyingly gloomy and drenched in sorrow, the album rarely lacks direction or becomes too plodding. Apostle of Solitude deploys nifty variations to keep things interesting on a musical level without compromising the cohesion of the album's steady flow.
Indianapolis doomsters Apostle of Solitude have been active for the past decade, establishing themselves as an underrated but respected force on the doom scene. 2010's Last Sunrise, the band's impressive sophomore album, was worthy of high praise due to its potent blend of emotion, melodicism, catchy songwriting and sonic heft. The band's doom formula is heavily indebted to the genre's traditional values and influences, yet their sound remains unmistakably modern. Sure there a nods to heavyweights such as Saint Vitus, Solitude of Aeturnus, The Gates of Slumber and the vastly underrated and sadly defunct Abdullah, but Apostle of Solitude have transcended their influences and established their own distinct identity in the modern doom landscape. Third album Of Woe and Wounds doesn't really mess with the band's well established formula. Yet despite the familiarity in tone following a four year gap between albums, Apostle of Solitude return recharged and equipped with a fresh batch of invigorating, expertly crafted melodic doom gems.
Of Woe and wounds is abounds with fat bluesy doom riffs, earth rumbling rhythms and dark soulful leads, topped off with the emotive, gritty melodic vocals of Chuck Brown (also on guitar). Of Woe and Wounds only reinforces the band's strengths with top notch performances, excellent writing and swift execution that smacks of a band with intuitive chemistry and some seriously good instrumental chops. Regardless of whether you're down with Apostle of Solitude's brooding style of melo-doom or not, they could never be accused of being dull in the songwriting department. Apostle of Solitude thrives on dynamics without diluting the thick doomy core of their signature formula. Lead heavy cuts like the Sabbathian march of "Lamentations of a Broken Man" and bruising melancholic lurch of "Luna" finds the band relishing in their trad-minded brand of doom misery. While the tone remains satisfyingly gloomy and drenched in sorrow, the album rarely lacks direction or becomes too plodding. Apostle of Solitude deploys nifty variations to keep things interesting on a musical level without compromising the cohesion of the album's steady flow.
First proper track "Blackest of Times" rolls out slowly before lifting the tempo with some big swaggering doom riffs overlayed by the always compelling vocal melodies of Brown. Apostle of Solitude deftly balance plodding doom dirges with forays into livelier songwriting territory, connecting with their punchier, riff driven metal roots. This combo makes for a far more musically diverse experience than your typical doom album. Take the thunderous grooves and crushing riffs of "Whore's Wings" as a shining example of the band's galloping, but no less heavy songwriting variables. "Push Mortal Coil" displays the band's masterful riffcraft and knack for writing catchy vocal hooks. Brown and fellow axeman Steve Janiak's playing is both forceful and inventive, supplying seriously heavy A-grade riffage embellished with sombre melodies and smoking solos.
Drawbacks are difficult to find. Of Woe and Wounds is nearly every bit as powerful and accomplished as Last Sunrise, with the added bonus of a much improved visual representation following the debatable choice of artwork last time around. The production is a tad cleaner and brighter, but it doesn't diminish the muscular sonic force of the recording. And at a hefty 58 minutes, Of Woe and Wounds is guilty of dragging in a few places, even if there aren't any notable missteps or poor execution present. Nitpicks aside, Of Woe and Wounds is another triumph for the doom genre, with the minor blemishes easily overridden by the band's stellar craftsmanship and emotive delivery. Traditional doom fans yet to experience the soul crushing depth of Apostle of Solitude's unique brand of weighty melodic doom would be well advised to make acquaintances with this excellent new chapter in the band's accomplished career.
Written by Luke Saunders
January 5th, 2015
\\\
http://www.metalkaoz.com/album-reviews/14741-apostle-of-solitude-of-woe-and-wounds.html
This is one of the hardest reviews I was ever called to write and the reason is simple: how would you feel if you were face-to-face with one of the most emotional songs you've ever heard which also had all the specs to be characterized as the 'song of the decade' (always according to your taste)? Yes, this is exactly the case with APOSTLE OF SOLITUDE's latest studio offering, entitled "Of Woe And Wounds", and "Luna" is the brightest gem inside – a track I had the chance to experience live at this year's 'Days Of The Doomed' fest in Cudahy, WI, but damn, it's even more lethal under the 'repeat' mode pounding from your huge home-speakers.
It may sound like I am exaggerating, but to my ears, "Luna" is the center of the gravitation field named "Of Woe And Wounds"; an album impeccably tight-structured with start, middle and finish, giving you the feeling you're reading a truly classic book (like Jules Verne's "From The Earth To The Moon" classic) that will survive through the end of Time. It's known that Indianapolis' pride APOSTLES have acquired a PhD in Pain and Sorrow, giving the first generous samples with their previous "Sincerest Misery" and "Last Sunrise" albums, but what happens in their third full length shows that all the dark emotions have become an unstoppable river of gloomy colors, ready to flood your eyes and finally drown your heart. If you claim you are a Doom Metal fan, then this is the album (of the year / decade / Eternity) for you; "Of Woe And Wounds" consists of what the title declares, plus crunchy guitars, funeral-like riffage and a mournful, trembly at times, voice that sounds like the duo Brown / Janiak carries all the weight of the World on their shoulders / souls.
The March Funebre-laden intro "Distance And The Cold Heart" passes perfectly the baton to the ton-heavy "Blackest Of Times" that wakes up some DEVIL TO PAY memories from their latest "Fate Is Your Muse" offering, and not just due to Janiak's addition to the APOSTLE OF SOLITUDE lineup, sharing guitar/vocal duties with Brown. Here, the riffage contains a rough grungy edge while it isn't afraid to show even some lurking Sludginess towards the end and I bet your room will look small as it is being filled by the sound that has the term 'massive' written with golden and bold letters. "Whore's Wings" will explode in-your-face with its up-tempo, fatty riff, and while listening to this one, I can imagine some serious headbanging action inside the pit, so my guessing is that the band will include this track to future setlists. "Lamentations Of A Broken Man" honors the Swedish scene of Doom, and bands like CANDLEMASS will immediately pop up in mind, while a smouldering THE GATES OF SLUMBER layer (R.I.P.) nicely embraces the track's mournful character.
In case you think this is too much to handle brace yourself because there is more; from the catchy hooks of "Die Vicar Die", "Push Mortal Coil"'s epicness and DEVIL TO PAY-like feeling of "This Mania", all the roads are heading towards "Luna" that is the ultimate hymn of Pain, proving that the APOSTLES have crafted the best album of their career (thus far) that will make many heads to turn towards their way and even more jaws to drop on the table.
You know, Doom is all about the riffs and this is all you'll get in "Of Woe And Wounds" – just listen with your wounds open.
"…the pain won't go
away…"
9/10
Written by Maria Voutiriadou Monday, 15 December 2014 10:22
http://theobelisk.net/obelisk/2014/11/06/apostle-of-solitude-of-woe-and-wounds-review/
Apostle of Solitude, Of Woe and Wounds: Lamentations
Thursday, November 6th, 2014
Four years after releasing their second album, Last Sunrise (review here), on Profound Lore, Indianapolis doomers arrive at Of Woe and Wounds a much different band than they were their last time out. Their debut for Cruz del Sur, Of Woe and Wounds is their first full-length to feature Devil to Pay guitarist/vocalist Steve Janiak sharing those duties with Chuck Brown, and the first to feature bassist Dan Davidson, who joined last year, rounding out the rhythm section with drummer Corey Webb. New label, new dual-vocal approach, new low-end, Apostle of Solitude aren't quiet coming out of the gate cold on their third offering, the preceding Demo 2012 (stream/review here) having previewed "Blackest of Times," which leads off Of Woe and Wounds and "Die Vicar Die," one of its catchiest hooks, and a demo leaked as well for "Whore's Wings" that showcased some of the album's promise. Still, none of these quite prepared the listener for the heft Apostle of Solitude would sling this time around, as they mark a decade since their founding in 2004 and six years since they made their debut with 2008's Sincerest Misery on Eyes Like Snow. With a crisper production — one can hear it in the crunch of the guitars and in Webb's hi-hat on "Die Vicar Die" — and the steady interplay of Brown and Janiak's vocals, the four-piece come across on these 10 tracks as being in command of their sound and able to work within a variety of downer, thoroughly doomed levels of despondency. Apostle of Solitude have always had an emotional element at work in their material — they were ahead of the game on that — and whether it's "Push Mortal Coil," the eight-minute culmination "Luna" or the brooding "Lamentations of a Broken Man," on which Janiak takes the fore vocally, that remains true, but never has their presentation been more direct.

There are few frills in Apostle of Solitude's sound, and that's always been the case. They are doom. No pretense, no bullshit. Born of the same lineage as The Gates of Slumber, they have never had much use for anything more than drums, guitar, bass and vocals in expressing their particular brand of sorrow, and Of Woe and Wounds drives that impulse even further. A later cut like "This Mania" feels like it's changing things up for a faster pace than "Push Mortal Coil" before it or the morose "Siren" after, but essentially the methods are the same. Brown, Janiak, Davidson and Webb don't really need anything else. The sway of "Siren" and the chugging initial buildup of "Blackest of Times" as it moves out of intro "Distance and the Cold Heart" readily accomplish the weighted task before them, and at nearly 60 minutes long, if Of Woe and Wounds was going to lose track of itself along the way, it would. Opening catchy with "Blackest of Times" and the quicker "Whore's Wings," the album instead draws the listener into its dark, spacious sound before reveling in the miseries of "Lamentations of a Broken Man" and "Die Vicar Die," which pushes subtly toward the eight-minute mark with a long instrumental/solo break in its second half that gracefully pulls back to the chorus to finish out and shift into "Push Mortal Coil," shorter, faster and more metal-sounding. I guess "more metal" applies to the album as a whole and is a function in part of the production. Produced by Mike Bridavsky, who also worked on Last Sunrise, Of Woe and Wounds is a long way from the bleed of Sincerest Misery, and though Apostle of Solitude have always had a clear, big sound, they've never come across quite as on top of the beat as they do here, and it gives the bulk of the record a more aggressive feel. It's a long way around to avoiding sonic monotony — which a lot of traditional-style doom doesn't — but Apostle of Solitude are skillful enough songwriters at this stage to make it work.

That's true on "Blackest of Times," "Die Vicar Die," and "Whore's Wings," which again, have been around for a while, but also "Push Mortal Coil," the thrust of "This Mania" with which it's paired, and the aching "Siren," which follows and leads the way into "Luna," the album's longest cut and greatest single achievement in tying together the various sides of Apostle of Solitude's sound. In its lurching riffs, smoothly executed vocal harmonies and desolate feel, "Luna" nonetheless manages to convey one of Of Woe and Wounds' central hooks, incorporate some of its best guitar interplay and remain one of the most memorable impressions on offer. It's also, for all intents and purposes, the closer, though "Distance and the Cold Heart (Reprise)" returns to the intro to bookend in suitably mournful fashion, a plodding three-minute instrumental afterthought that's hypnotic in its long fade, what sounds like backwards guitar set to a slow beat from Webb. You could call it a departure from the straightforward vibe so much of the album elicits, but it's also how Of Woe and Wounds started, so to say it's inconsistent would just be factually wrong. One decade and three albums deep, Apostle of Solitude don't feel like they've settled. As much confidence as they display in their doomly approach, particularly in the vocal harmonies and weaving of lead and rhythm guitar tracks, they also set a course for areas of continued growth. I won't claim to have any idea where they might head sonically, if the metallic vibe on Of Woe and Wounds portends a direction they might pursue from here on out, but as they move into their second decade of existence, the fact that Apostle of Solitude so blatantly refuse stagnation bodes well for their ongoing progression.
http://www.sludgeworm.de/2015/01/06/apostle-solitude-woe-wounds/
Sometimes I'm looking downright to the conclusion of the year: it is darker, colder and you spend more time with music. Yet to the best Doom discs seem simple at the end, where a release also makes the most sense. Why the Doomer Apostle Of Solitude so far are unheard of, is beyond me.
On the new long groove Woe Of Wounds, you just get everything you expect from a good slice of the genre: A fat pounding guitar, great vocals and again an angry step on the accelerator pedal. The ten songs are enjoyed best in one go, because I don't want to pick out any particular hit here. The disk is on and turned up – preferably with ordinary headphones and a bottle of Merlot to room temperature. Emotions are being transported, the melancholy is palpable and the songs get under your skin. The salty dogs celebrate their own, creamy Doom stew that really sounds distinctive, precisely because tickles where it should. Strong songs, great sound and the best craftsmanship, not boring!
This disc is worth it for all those to whom Doom means more than Candlemass or Black Sabbath. We have a great record at hand, which has earned every ear that they can get. Despair and pain can be so beautiful sometimes.
http://www.wormwoodchronicles.net/torture-chamber/apostle-of-solitude
APOSTLE OF SOLITUDE "Of Woe and Wounds"
By Dr. Abner Mality

This Indianapolis band cements their position as one of America's best doom metal bands with "Of Woe and Wounds". This is one of those "pure" albums that is all too rare today. You hear it and you know immediately "this is doom". And they do it without sounding like just another clone band out to imitate Sabbath or Candlemass. That's a hard thing to do these days. Think of that Swedish band Below who recently released an album that was nothing but utter Candlemass worship. Apostle of Solitude obviously owe a debt to Candlemass but they pay it by not sounding like a complete knock-off.

There's some gorgeously heavy and morose music on display here. "Blackest of Times" and "Lamentations of a Broken Man" feature monster riffs that plod with authority while the splendid clean vocals of Chuck Brown unleash sorrowful tales of woe. Sadness streams from these songs without becoming cloying…also a feat. When the band feels like it, they can do something slightly more upbeat and aggressive. "Whore's Wings" is a great example…this has got enough punch to start a mosh pit. "Die, Vicar, Die" combines both true doom and that punchier approach to create pure metal ecstasy. But the best track is left till last with the haunting "Luna", which is heavy and yet ethereal at the same time.

I've seen these guys live twice and they were impressive each time. I'm glad that carries over to their studio work…that is not always the case. It is hard to find a weakness in Apostle of Solitude, from the super booming bass to the meticulous songcraft to the feeling of genuine sorrow that oozes from the music. Grab this and suffocate under a mountain of DOOM.
http://hellbound.ca/2014/11/apostle-solitude-woe-wounds/
Has it really been four—hell, almost five—years since Apostle of Solitude put out an album? Last Sunrise was one of my fav releases of 2010, but I guess things move slowly in doom circles sometimes. In any case, those who aren't strangers to the band probably know a few of these songs already. "This Mania" appeared on their three-way split with Rituals of the Oak and The Flight of Sleipnir, while "Blackest of Times" and "Die Vicar Die" were first heard on a demo tape they put out in 2012. (And yes, I actually own a copy of said cassette—I picked it up when I saw 'em play DOTD IV.) But that's not to say that these tunes aren't worth, well, several more spins…

"Distance and the Cold Heart" fades in slowly, building up to a crescendo that brings us to the true-doom riffage of "Blackest of Times." Not that any of this stuff is meant to sound cheerful, but AoS always has a way of layering an extra helping of agony in there, which is readily apparent on this number. And hey, it's hard not to bang your head to the stop-start riffage! (Much cleaner, thicker sound than the demo tape, BTW.)

"Whore's Wings" is more of a mid-paced slog, with some chugging sludge riffs that kinda remind me of Crowbar, leaving me waiting for that killer breakdown… which never really comes. But "Lamentations of a Broken Man" brings back the doom in a big way, with some evil tritones that recall Sabbath's signature song. Sandwiched between a pair of previously-recorded tracks, "Push Mortal Coil" pushes the tempo to a brisk pace, similar to "Whore's Wings," except that this one's not lacking in the breakdown department. Hey, who says doom has to always be played slow?

That said, they end things on a much slower note, with the eight-minute epic "Luna" delivering the doom in a big way, kinda like a cross between Candlemass and Neurosis… while also not sounding outta place on Last Sunrise. This last one (not counting the reprised outro) is definitely worth another listen!
https://zombieritualzine.wordpress.com/2014/12/01/apostle-of-solitude-of-woe-and-wounds-review/
APOSTLE OF SOLITUDE "Of Woe and Wounds"
Cruz Del Sur Music

It's definitely a pleasure to hear this piece of doom-stoner metal, solid and forged with class. Highly influenced by 70's rock and the heaviest side of doom metal genre, these guys composed an excellent album full of cathartic guitar riffs and oppressive sorrowful lines.

Everything is tied by good taste in dark atmospheres and excellent musical arrangements. If you pay attention deeper, you will discover an experienced band with ideas, and a step beyond what is trendy today. Vocalist/guitarist Chuck Brown did an excellent work by transmitting painful lines and lunatic choruses. I liked the entire album because they know how to put slow structures and mid-pace elements in specific moments, without losing coherence. Actually, they have epic moments like in the middle of "Die Vicar Die" which is one of the most powerful tracks. I listened to this slice of pain three times, and I'm still finding more and more things. This is ultra recommended for lovers of doom-stoner metal with heavy metal in the heart and soul. Excellent! – Victor Varas
http://wickedchannel.com/2014/11/metal-review-apostle-of-solitude-of-woe-and-wounds-2014/
Indianapolis doom metal band Apostle of Solitude are back with their third release, "Of Woe and Wounds," a depressive release of woe and despair that suits the band just perfectly. It marks the first album appearance of guitarist/vocalist Steve Janiak, also of Devil to Pay, who joined after the second record was released.

With nearly 60 solid minutes of some of the darkest sounds heard since classic Cathedral or Solitude Aeturnus, "Of Woe and Wounds" plays very well if you are in the mood to sit alone in the dark and lose yourself in their sounds.

The album's opening song proper, Blackest of Times, shows how well the band mixes their doom sounds with some truly impressive doom vocals, which reap of despair. Whore's Wings is such a good song with its great riffwork and vocals. It even features a decent lead guitar section, but the riffs steal the show on this one.

Overall, "Of Woe and Wounds" is a release that should be taken notice of and Apostle of Solitude gets me even more excited with this release than I previously was about them.
http://www.lordsofmetal.nl/en/reviews/view/id/28365
Label : Cruz Del Sur Music | Archive under doom metal
Marcel H. : Four years after the, for me, quite disappointing 'Last Sunrise' Apostle Of Solitude is back with their third full-length album entitled 'Of Woe And Wounds'. Yes, the album title is a dead giveaway that we're still dealing with doom when it comes to these gentlemen.
The first thing one notices when it comes to 'Of Woe And Wounds' is that the overall sound is a lot better than that of 'Last Sunrise'. Here it gets a chance to breathe. Another aspect that catches the ear is that it all sticks more, it is catchier than its predecessor. In that sense it seems to be grabbing back to the sound of debut album 'Sincerest Misery'. Chuck Brown's vocals are immediately recognizable and are an important aspect of Apostle Of Solitude's sound. 'Of Woe And Wounds' is pure beautifully well played traditional doom and is overall a very strong album with a couple of highpoints. 'Blackest Of Time' being one of them, especially due to the tempo change near the end of the song which comes across extremely natural. Another highpoint it 'Die Vicar Die', listen and enjoy.
http://www.lordsofmetal.nl/en/reviews/view/id/28492
Vera : This American doom metal band came into being after the split of The Keep in 2004, while singer/guitarist Chuck Brown used to be drummer in The Gates Of Slumber too until 2013. Bob Fouts (also The Gates of Slumber, Nachtmystium) is not in the band anymore, on bass we now hear newcomer Dan Davidson as rhythm section together with drummer Corey Webb. Second guitarist Steve Janiak offers us together with Chuck an opulence of beautiful guitar solos in the mostly slow doom/heavy metal which is strongly influenced by Black Sabbath. Thus we get some traditional doom metal with clean vocals right here. I could read some criticism on Chuck's vocals, but I can truly live with his quite flat way of singing. It is a typical sound from the pre-growl era, often heard in the eighties.
With the new line-up they recorded the third album 'Of Woe And Wounds' at the Russian Recording Studios with producer Mike Bridavsky. For the mastering they turned to Tony Reed who got famous with his work for the latest Saint Vitus album 'Lillie F-65'. Nice descending riffs are the intro, before slow, echoing heavy riffs and sonorous vocals are going to entertain us for almost an hour. Songs such as 'Blackest Of Times' and 'Die Vicar Die' (with fervent wah-wah solo) are surely not bad at all, but they might get a bit monotonous for some of you, also due to the simple base of the music. 'Whore's Wings' was re-recorded after appearing on a demo in 2012. The slowest track has the nearest approach to Black Sabbath and this grievous epic listens to the title 'Lamentations Of A Broken Man'. Well, with such a title you cannot expect an up-tempo tune. Yet they go in a faster mode from time to time, like during the up-tempo 'The Mania' with its fiery solos and repetitive tendencies. The guitar sound is a bit spatial in 'Siren', but also very distorted. The opulence of beautiful guitar soloing makes this album worth checking out. As epilogue they give us a reprise from the intro 'Distance And The Cold Heart' which is a melodious instrumental piece. No covers on the vinyl version this time, but live versions of 'The Messenger' and 'Sincerest Misery' as bonus.
http://magazin.amboss-mag.de/apostle-of-solitude-of-woe-and-wounds-doom-metal/
"Of Woe and Wounds" (Doom Metal)
Label: Cruz del Sur

APOSTLE OF SOLITUDE were already a really great band, but with "Of Woe and Wounds" one has actually exceeded by far on the album "Sincerest Misery". 10 hymns (including a home and an outro called "Distance and the Cold Heart") full of emotions you have created and singer Chuck Brown contributes a large part to the fact that you never forget this album so quickly. In addition to Heavy Metal / NWOBHM-influenced songs that also like to have the pace to pick up somewhat (eg "Whore's Wings", "This Mania"), you can also find Edeldoomer the brand "The Vicar The", "Luna" or "Laments of a broken man ", who are just so beautiful, as are SOLITUDE AETERNUS and CANDLEMASS also been times.

The band has everything it takes to rise immediately in the Champions League: the melodies are beautiful, the vocals just fantastic and touching, the guitars bold and always with the right sense of the mood and especially songs that are so persistent in your ear canals seize that you want to hear them again and again. Just listen to the songs already mentioned and you will understand what I mean.

In classic Doom Metal, there has been nothing even better this year, especially since they know how damn good to diversify the style range so wide that even Nichtdoomer and Heavy Metal fans will get their money. But I admit that my heart belongs to the beautiful ponderous compositions. (Chris)
http://www.metal-observer.com/3.o/review/apostle-of-solitude-of-woe-and-wounds/
Apostle of Solitude – Of Woe And Wounds – (8/10)
Published on November 11, 2014
Label: Cruz Del Sur Music

Hailing from Indianapolis, Indiana, Apostle Of Solitude was formed in 2004 and have always been a solid doom act. Their brand of a more traditional doom sound was first brought to my attention with their last record, Last Sunrise from 2010. Finally, after four years the band is back with their newest release, Of Woe and Wounds. The album itself is very solid, and Apostle of Solitude are a very capable band. However, much like their last release, there are some forgettable moments and the overall length of the record does hinder it a bit. Regardless of a few flaws though, Apostle of Solitude are hitting their stride and showing that they do deserve a spot in the doom genre.

The album starts off with a very melancholic sounding instrumental intro. Something like this can be hit or miss as an intro track should help draw in the listener, and let them anticipate what is coming. Apostle of Solitude succeeded greatly at this, and once the second track "Blackest of Times" hits the speakers there is no stopping. The pace of the record is usually more mid-paced, but the band does take the time to slow down here and there. These slower sections are a great way to hear the bands two guitar harmonies and riff attacks. The drumming in undeniably doom, and the bass is thick and adds an extra punch to the sound. While the band plays a traditional style of doom; there is no doubt the band has their eyes set on the present and future and their sound really helps solidify that fact. Vocally, guitarist and singer Chuck Brown has a commanding performance; stealing the show whenever his voice appears. "Die Vicar Die" and "Whore's Wings" serve as prime examples of his vocal ability and are among the best tracks on the record. Sung entirely clean and mid range, Chuck is able to get a different register when needed but his normal voice fits the music perfectly and really adds to the downtrodden feeling of the genre.

Going back to the guitars, Chuck and second guitarist Steve Janiak play off one another extremely well. The album is of course heavily riff based, and the duo have come up with some truly heavy and wonderful riffs. Not every one is a hit, and some songs do seem more forgettable than others, but next to the vocals the guitars are a real high point on this album. Those solos throughout the record are incredible, and "Luna" and the aforementioned "Die Vicar Die" are the real highlights. Apostle of Solitude took four years in between records and it is easy to see the time was well spent. The being said, the last part of the album does seem to go on a little too long. The album has long tracks throughout, but near the end of the record it does begin to drag a bit on a couple of songs. "Luna" helps bring the interest level back though and the reprise of the intro track closes the album on a great note; bringing everything full circle.

When listening to this record, I was a little upset that there was not a song that stood out to me the way "December Drives Me To Tears" did off their last record. However, that is probably the only track I go back and listen to from that record with any real consistency. As it stands now, Of Woe and Wounds has gotten multiple spins and will continue to do so. To me, that shows the overall progression and advancement the band made with these new record. The song writing is stronger overall, and even with a few tracks being somewhat forgettable the album overall is very formidable. 2014 has been an impressive year for doom metal, and I can only hope Apostle of Solitude do not get lost in the shuffle as this is a great record and deserving of any attention it can get.

Author: Neill Bird
http://heavymetal.about.com/od/cdreviews/tp/New-Heavy-Metal-Album-Reviews-Week-of-November-4-2014.htm
Apostle of Solitude – 'Of Woe and Wounds' (Cruz del Sur)
Genre: Doom Metal/Stoner Metal
Indianapolis doom metal quartet Apostle of Solitude are back after a four-year break with their third full-length release Of Woe and Wounds, a slow and soulfully groovy record that should appease the dirty blue palates of fans who adhere to the call of acts like Down, Age of Taurus, Witch Mountain, or The Gates of Slumber, a band to which vocalist/guitarist Chuck Brown had played drums for.
While the south-meets-Black Sabbath template is nothing new to your standard doom fare, Brown's vibrant voice certainly helps lend distinction, sounding not so far removed from a Dax Riggs acolyte. The band's song-writing chops have definitely improved, with songs like "Die Vicar Die" and "Siren" emerging emotive and affecting amid the chugging and head-banging. Plenty of riffs, hooks, and heaviness to dig into from one rock-solid doom band.
Rating: 4
(Evan Mugford)
http://thegrimtower.com/review-apostle-of-solitude-woe-wounds/
By Admin on November 4, 2014 in Top Reviews
Apostle Of Solitude – Of Woe And Wounds

Apostle Of Solitude – Of Woe And Wounds (2014) – Indiana Doom collective Apostle Of Solitude are back with their third full-length a whole four years after the band's previous record (Last Sunrise) back in 2010. But the time off has left these doomsters ready and raring to crank out some of the most tasteful and true to form doom that I've heard in a good while. The man with all that thunder is Chuck Brown, who used to be a member of Gates Of Slumber and seems to be dolling out the same sorts of stony riffs here. Steve Janiak is also on the git-fiddle and you might recognize him from a little band called Devil To Pay. So it's safe to say that Apostle Of Solitude is made up of a good chunk of doom veterans. What's more is that they play like a bunch of doom veterans, which is a major plus. I really don't think there's one single song on the album that could be considered a throwaway, with tracks like "Lamentations Of A Broken Man 6:57?, "Die Vicar Die 7:47? and "Push Mortal Coil 5:21? really delivering the goods right in the middle of this thick sandwich of doom thunder and soaring vocal melodies. Chuck proves that he's got one hell of a voice on this record, making a stance that could work in either heavy metal or pop rock, but it's certainly a good thing to hear his pipes soaring over the mass of crunch and blues that comprise Of Woe And Wounds. Add some really strong solo work to the amount of crunch that you'll hear on this record and you've got a surefire winner. There's plenty of doom bands out there, but these Indianans really seem to be thundering along at the top of the pack.
http://meatmeadmetal.wordpress.com/2014/10/30/barbeliths-killer-debut-adds-emotion-to-black-metal-souls-dusted-by-generation-of-vipers-apostle-of-solitude-emit-dark/
APOSTLE OF SOLITUDE, "Of Woe and Wounds" (Cruz del Sur) – If misery, depression, and sadness is more your thing, Indianapolis-based doom metal band Apostle of Solitude are back four years after their awesome "Last Sunrise" (which had one of the most controversial album covers of that year). In the time since, the band has shifted from Profound Lore to Cruz del Sur, but the band's music is just as heavy, dreary, and darkness-saturated as ever before, as evidenced by their killer new record "Of Woe and Wounds."

Apostle of Solitude's music still comes as you from a traditional base, which is sure to please fans of bands including Hour of 13, Gates of Slumber, and some obscure group called Black Sabbath. The 10-track record is fiery, slow driving in spots, and full of great riffs, with there being so many high points, it's tough to hit on them all. "Whore's Wings" has tremendous singing from guitarist Chuck Brown, some awesome harmonizing, and warnings to, "See the coldness in her eyes"; "Lamentations of a Broken Man" that's a profoundly dark and sometimes reminds of early Alice in Chains; "Die Vicar Die" the angriest and, in my opinion, best song on the record, with Brown wondering, "How could a righteous god forgive a monster like me?" and a chorus that bristles with anger; the swaggering and catchy "Push Mortal Coil"; and the epic "Luna" that's mystical, creepy, sludgy, moody, and lumbering all at once. Apostle of Solitude remain one of the finest American doom bands, and "Of Woe and Wounds" solidifies their rock-solid resume.
http://www.avenoctum.com/2014/11/apostle-of-solitude-of-woe-and-wounds-cruz-del-sur/
Apostle of Solitude – Of Woe and Wounds (Cruz Del Sur)
by Spenny on Nov 2, 2014

Not too long ago a certain cow tongued wig wearing dinosaur very publicly lambasted the internet and heralded it as the death of rock and roll. I'd like to reply to his contention; fuck off you stack heeled twat! Yes, technology has allowed the unscrupulous to share music for free at the click of a button, and for some engendered an attitude of entitlement, but there have always been such fuds willing to take money out of the pockets of artists, be they large corporations or tape hawking bootleggers of yesteryear. However, that same internet is a fantastic tool of discovery. I remember the days when the only national or international news of music had to be found in a few weekly or monthly magazines who had limited page space, and beyond that you had to rely on word of mouth or good luck to hear about any underground music. An example of the good side of this modern communication is that as I sit here on a grey cloud shrouded Scottish East coast afternoon I am listening to Apostle of Solitude's 'Of Woe and Wounds', a superlative slice of doom from distant Indiana, something I would never encounter if said coffin selling cash whore had his way. Rant over, and onto the music.

After the deathly slog of intro 'Distance And The Cold Heart', 'Blackest Of Times' is washed from the speakers on a tide of distorted guitars and rumbling bass that crash against granite cliffs of battering drums, all this excellence coming to play before the mournful vocals of Chuck Brown bring an extra level of doom to the mix. 'Whore's Wings' follows with a faster, traditional metal riff, but still angled towards the lower register to keep up the doom, whilst 'Lamentations of a Broken Man' is stamped through with a riff straight from the vaults of Tony Iommi; imagine if you will Black Sabbath, but fronted by somebody who can actually still sing and you wouldn't be far wrong. Next up, and with a title guaranteed to get the bible thumpers up in arms is 'Die Vicar Die', a cry from the condemned for forgiveness from a hollow idol. Dark as the theme of the song is, the vocals are at their most heart wrenching and haunting, as if Layne Staley were being channelled from beyond the grave. On an album that has no fillers, it really is a track that stands out.

After this gloom 'Push Mortal Coil' positively blasts forth with hooks aplenty to get heads banging, whipping past in a scant five minutes that seem like a sprint compared to most of the rest of the album, but only if you consider listening to Candlemass to be too close to speed metal for your tastes that is. The chest crushing bass blast continues with confidence in 'This Mania', the rhythm section making their presence massively apparent, refusing to be outshone by the guitars and vocals that could easily dominate lesser players, the album having a hugely full and deeply resonant sound because of it. This is nowhere more apparent then in 'Luna' where there is a full three minutes of instrumental bludgeoning before the vocals cut in with soulful and dark harmonies. Once again I'd like to raise a middle finger to a so called God of Thunder and say this is how a bass is meant to be played; no blood dribbling is necessary.

2014 has seen some excellent Doom metal released from acts both sides of the Atlantic; with 'Of Woe and Wounds' Apostle of Solitude have firmly put themselves amongst the best of the year.

(8/10 Spenny)
http://www.kaosguards.com/content/view/9212/1/
(translated by google)
If two split CD, APOSTLE OF SOLITUDE the exception had not been heard from since his second album "Last Sunrise".

So it is with much pleasure that we welcome relief "And Wounds Of Woe." Especially since the result is frankly up to the expectations.

Unlike many groups of Doom, all sub-genres, APOSTLE OF SOLITUDE not hiding behind a wall of sound but monolithic articulates its processes. Which reveal a legacy for many Heavy Metal in the best taste. The riffs are clearly drawn, although sharp, leaving the rhythm section to provide care to the inherent gravity Doom. Note however that this rhythm section practice slow and cumbersome with real intelligence. Thus, the drumming avoids monotony, thanks to a rich set of cymbals and a sense of inconvenience and the descent of toms that gives relief and dynamics. Very present in the mix, the bass riffs and sticks to offer them a rough base, with a very metallic sound.

Singing meanwhile gives neither the cavernous rumble or in acrobatic vocals. Very clear and constantly modulated, it conveys a melancholy or a palpable despair. The vocals are often doubled and harmonized with a record that is somewhat reminiscent of ALICE IN CHAINS.

Adds that if the compositions are certainly fairly standard but very well structured and well supplied with sad melodies and rhythmic effective, you will APOSTLE OF SOLITUDE realized that did not make the trip for nothing and is eager not to to wait that long to know what happened.

Alain Lavanne
http://www.xxl-rock.com/index.php/cd-reviews/a-b/2377-apostle-of-solitude-of-woe-and-wounds.html
(translated by google)
Do you know this not-funny-cartoon, in which a doctor tells the father of a retarded boy that his offspring was stupid and that only "Duhm?" reciprocated? Since I know this strip, I always have to smile abruptly when someone mentions the genre called Doom.
Anyway, Doom is quite in vogue, it seems to me. The splendid magazine Deaf Forever brings in its second edition, a bit firm Doom-Special, Female-Fronted-Doom is the perceived word of the year 2013, and even I'm just in a chapel active, having at least Doom bonds in the music. Yeah, Duhm run …

The American formation Apostle Of Solitude – created in 2004 from the remnants of The Keep – published shortly their third long groove 'Of Woe And Wounds'. And what a release it is. As a fan of the mighty Solitude Aeturnus I like the sound of the Americans very well, in the same vein strikes pretty much exactly like the aforementioned band. Although singer and founding member Chuck Brown not quite come up to the vocal power of Robert Lowe and not quite having his charisma, his voice is distinctive and his excellent performance. In addition, the music is a little bulkier than the models, which I personally really like. The production (Russian Recording) has succeeded adequately. So I can only put every Doom disciples to his heart, zuzulegen these recordings quickly.
http://mwiemetalblog.over-blog.com/2014/11/cd-review-apostle-of-solitude-of-woe-and-wounds.html
3. November 2014
(7/10) Apostle Of Solitude is looking back on two full-length longplayers and a couple of EPs/Slit albums. The guys from Indianapolis, Indiana started in 2004 and the first demo was published one year later in 2005.
The third strike of the four-piece is now available and got the name "Of woe and wounds". Again Cruz Del Sur showed that they have a great sense for undergound bands. Apostle Of Solitude plays doom metal the more oldschool way and fit perfect into the portofolio of the label.
The album starts with an intro called "Distance and the cold hard", which by the way is also picked up again in the end as the closer of the album. Doom songs are slow and they normally have a longer playing time. This is also the case with Apostle Of Solitude. The tunes are all between five and epical seven minutes which gives you an hour of slow and heavy riffs.
The sphere the music spreads fits perfect to the name of the band. It's an almost perfect match. The feeling of 'solitude' comes back in many of the songs. It's a melancholic vibe with a lot of despair and the impression of loneliness.
"Luna" is one of the highlights on the album. Not only due to the fact that it is the longest track on "Of woen and wounds". It is also one of the slowest songs with an intensive slo-mo riff and the melodic vocals, spreading a feeling of hopelessness. This is pure emotion.
A song I like too is the quite fast "Whore's wings". Downtuned guitars and a pounding rhythm caracterize the song which is a real headbanger. And there is the really mean riff in "Blackest of times" that tears down everything.
Maybe Apostles Of Solitude don't have a real unique feature in their music, but they play good doom metal with a strong underground expression.
(7/10)
http://metalreviews.com/reviews/album/8894
Cruz Del Sur Music
Reviewed by Thomas
Album of the month

Oh my Satan, Cruz del Sur rarely, if ever gets anything wrong. Apostle of Solitude is another impressive add to their already magnificent roster. That said, their previous outing Last Sunrise, took me fair amount of time to appreciate and didn't quite live up to their debut which, despite being a bit sloppy here and there, was a very solid piece of volcanic misery. However, the Indiana natives are really coming into their own here, so I'll cut right to the heart of it. Of Woe and Wounds is a monstrous hybrid of Doomshine and Black Sabbath, with Trouble and early Grand Magus woven in, making for a colossus of an album.

Barring the short opening intro-cut, Blackest of Times sets a monolithic pace before exploding into the faster, dirtier, more fiery Whore's Wings. Here axe-wielder/vocalist Chuck Brown show off tremendous riffmanship as well as vocal work radiating pitch-black excellence setting this band apart from the rest. The slow, massive assault continues when drummer Corey Webb slows things down considerably for Lamentations of a Broken Man, a miserable giant of a song drenched in enchanting harmonies and the slow thunderous rhythms of an absolute earthquake of a song.

I didn't intend for this review to be a song-by-song kind of thing, but when you have so many awesome cuts on one album, you kind of have to mention every single one of them in some context or another, for fear of leaving anything important out. Die Vicar Die is one such essential feature, the absolute highlight for me on this album and quite possibly the best traditional doom metal song I have heard in forever with its beautifully crafted riffs, several "up-tempo" parts, and killer vocal lines. Then there's Push Mortal Coil, a shameless homage to Black Sabbath, and the faster slightly Solitude Aeternus-infused This Mania which will takes your hand and leads you into darkness. Further, the closing trio Siren, Luna and Distance and the Cold Heart (Reprise) ends things on an extremely miserable note, and thus Apostle of Solitude see their darkly intricate work fulfilled.

All in all this is what my appetite for doom has been craving for some time now, and this is likely to attend my year-end list. Of Woe and Wounds is a collection of tasty, heavy, bleak and perfectly executed traditional doom metal which hardly suffers from any faults. In comparison to their earlier work, this is the same stuff, only extremely much more well done. Highly recommended.
Killing Songs :
Album as a whole, but favorites are Whore's Wings, Die Vicar Die and Push Mortal Coil
Thomas quoted 90 / 100
http://deadrhetoric.com/reviews/apostle-of-solitude-of-wounds-and-woe-cruz-del-sur-music/
This Indianapolis-based doom crew hit a visual home run with the unforgettable cover for Last Sunrise. In an age where generic and played-out digital graphics dominate the album artwork landscape, Apostle of Solitude certainly left a lasting impression with two would-be lovers pointing guns at one another. (Hopefully they resolved things by going to counseling.) So while Of Wounds and Woe doesn't quite have the same impact on one's eyeballs, it does carry over the consistent, heart-achy American doom heard on Last Sunrise.
Essentially right in the sonic sweet spot between Nightfall-era Candlemass and all-eras Solitude of Aeternus (doom bands sure love the word "solitude," don't they?), AoS rely heavily on the pushy riff action of Steve Janiak and Chuck Brown, the latter of which did significant time in fellow doom cohorts The Gates of Slumber. Therefore, the familiarized tones found on cuts such as "Blackest of Times," the excellent "Lamentations of a Broken Man" and "This Mania" are sure to strike a resonant chord with the old and weathered. Brown's could possibly be the best aspect of the band too; he's clear and enunciated throughout, and thankfully not doctored up by any studio enhancements. The aforementioned "Lamentations of a Broken Man," along with "Push Mortal Coil serve as his top moments on record.
In the same fashion as Last Sunrise, Of Wounds and Woe will probably skirt under a few radars giving the band's locale and minimal reach on the European live front. But as it has been come to be known, an American doom band can enjoy stabilized longevity simply by not straying too far from one's roots, something Apostle of Solitude does rather convincingly here.
http://fastnbulbous.com/doom-clap-apostle-of-solitude-the-skull/
Doom Clap: Apostle of Solitude & The Skull
Posted on November 3, 2014 by A.S. Van Dorston

No, this isn't a about a new strain of venereal disease, nor a showdown of doom covers of "Boom Clap" (Charlie XCX would do well to cover a classic doom song though). It is, however, at least the fifth time this year that two notable doom metal albums were released on the same day. I'm pretty stoked to see this, as it means that the increasing stream of new doom releases that have been ramping up the past several years hasn't slowed down. Plenty of classic doom practitioners have re-emerged and reunited, pretty much revitalized across the board, including Pagan Altar, Revelation, Count Raven, Iron Man, Las Cruces, Pentagram, Saint Vitus, Blood Farmers and of course, Black Sabbath. Doom is in the air, and the disciples have not been lazy, as the overall quality of these albums seems to get better every year.

Apostle Of Solitude – Of Woe And Wounds (Cruz del Sur, 2014)Apostle Of Solitude – Of Woe And Wounds (Cruz Del Sur)
It's fitting that one of the best of the newer American doom bands come from a city that rivals Birmingham for being grim and depressing — Indianapolis, Indiana. Apostle of Solitude emerged fully formed with the excellent Sincerest Misery (Eyes Like Snow, 2008). Four and a half years after their second album, Last Sunrise (2010), their long-awaited third is finally here. Their sound continues down the same path of traditional rockin' doom rooted in classic Pentagram, Trouble and Saint Vitus, with touches of psychedelia, such as on the trippy solos on "Die Vicar Die." Chuck Brown's vocals are a strong point. Rather than trying too hard to sound like a badass bridge troll or a meth head who accidentally gargled on toilet cleaner, his are clean and melodic with mostly well-placed harmonies. The lyrics and verses are controlled and concise, but convey enough emotion to put him up there with any of the strongest vocalists of the genre, not to mention a couple well-placed screams like on "This Mania." "Push Mortal Coil" is another highlight that should become another live favorite with some of the best riffs and melodies. Album-closer "Luna" is their most epicly expansive, and appropriately the longest at 8:18.

Don't be fooled by their seemingly simple style. It might seem familiar at first, but the songs are structured like moebius strips that could suck you into an infinite loop without minding at all. This is a band that's been around the block, becoming masters of subtlety as well as heavy. While bands like Tombs, Triptykon and YOB have gotten more attention by mixing up elements of different metal sub-genres, it would be a mistake to ignore a great band like Apostle of Solitude.
http://www.demonic-nights.at/2014/10/apostle-of-solitude-of-woe-and-wounds/
Apostle Of Solitude – Of Woe And Wounds
dawak | 29. Oktober 2014 | 0 Comments

(translated by google)

Erhältlich ab: 31.10.2014
Erhätlich über: Cruz Del Sur Music (Soulfood Music)

Apostle Of Solitude claim to those Doom band to be the present, the sound and the intensity of Black Sabbath comes closest. Pure Copycat-existence must be of the Americans but not fear. The now ten years ago like a phoenix from the ashes of The Keep rising quartet has the experience necessary to bring a decisive degree of independence. In addition, one has in Chuck Brown a singer with an interesting and pleasant independent voice on board. "Of Woe And Wounds" seamless continuation of his powerful predecessor.

A decisive factor for the sound of the US-quartet is heaviness. With leaden heaviness, powerful riffs and deafening noise Apostle Of Solitude squeeze themselves from the thinnest idea cascading madness with massive guitar avalanches. "Blackest Of Times" begins after the intro – a stylish reprise at the end of the album gorgeous resumed classic – with one, you can not say otherwise, generic doom riff. By punchy drums and a loud, intricate production, this elemental force still burns a. Once Chuck Brown gets going with his Doom ratios for bright, clear, pure voice, stitched the bear. A better contrast to the instrumental juggernaut you can not create.

Superlative crowd – in both positive and negative – again and again, with the song material maintains by the Bank. In his bulky bumps the material is somewhat reminiscent of The Order Of Israfel , although the onset is generally much cleaner. So slow and shaky "Luna" is first, with continuous playing time be caught Apostle Of Solitude and rooms from a moving, highly intelligent Doom anthem. Other highlights: the plump, brisk "This Mania", the melodic-palatable nightmare "Lamentations Of A Broken Man" and the disturbing, rampant rocking "Siren".

On originality you have at Apostle Of Solitude certainly hope not, and that's ultimately okay that way. "Of Woe And Wounds" is self-sufficient and runs impressive results with this laconic setting. The combination of 'honest' voice, furious heaviness, riff and dry Doom primordial soup runs from front to back, puts even minor weaknesses loosely away and reminds with its naturalness to the beginnings of the epic genre. As a genre fan you can not get around this release.

Rating: 8/10
http://www.burnyourears.de/alben/41044-apostle-of-solitude-of-woe-and-wounds.html
(translated by google)

written by Helge
Thursday, 30 October 2014 20:33
Pretty wicked, what in the but actually so small niche genre Doom Metal lacking lately – a good release after the other. APOSTLE OF SOLITUDE with rise but no newcomer to the ring, but a veteran band that has already released several EPs, splits and demos next two albums. Now follows with "Of Woe And Wounds" album number three of the Americans.

Then we hear that APOSTLE OF SOLITUDE, as befits Doomsters, friends of cultivated riffs. The guitars cut out a fine riff after another – the density of really good, well worth listening to finger exercises on the album is remarkably high. Even otherwise, many elements of classical Doompalette find. Starting (morbid, vicious and vaguely sacred subjects) about the epic melodies through to clear, plaintive vocals, which is based on many old masters of the genre without abzukupfern at the harmonious overall concept of name, album title, cover and lyrics, too obvious at a. Vaguely reminiscent not pathetic voice to the colleagues from BLACK OATH.

The same applies to music. Similar BLACK OATH can also APOSTLE OF SOLITUDE elements of classical Metals incorporated in their music, which makes the songs sometimes very fast and impulsive for Doom ratios – best example: the almost brutal "This Mania". But there are of course plenty of slow, sluggish material on the album. This change in the dynamics makes the album heavy overall pleasant.

Highlights on "Of Woe And Wounds" are, for example, the issuing Duo "Blackest Of Times" and "Whore's Wings", which summarizes all the benefits described above, the APOSTLE'schen songwriting in two great, both melodic and dynamically thrilling tracks. Also, "The Vicar Die" is a top song with beautiful melodies and hooks, here, however, a weakness revealed the album: This piece is, as well as other and the entire album, a little too long. Had the band here and there abgeschnippelt a little ballast and tightened their compositions, would be "Of Woe And Wounds" has become a much more compelling genre highlight.
http://wonderboxmetal.wordpress.com/2014/10/30/apostle-of-solitude-of-woe-and-wounds-review/
Apostle of Solitude – Of Woe and Wounds (Review)
Posted: October 30, 2014 in Doom
This is the third album from US Doom Metal band Apostle of Solitude.

With a quality album cover I was looking forward to hearing this band and they didn't disappoint.

This is Doom Metal with an eye on the past and ambitions on the future. Of Woe and Wounds may have an Old-School core but it has a thoroughly up-to-date production that's warm and organic whilst simultaneously being punchy and in-your-face. It may be Traditional Doom Metal but the recording leaves no-one in any doubt; Apostle of Solitude are a band that are of the here and now and they mean business.

The sound is crisp and crunchy, with the guitars sounding full of vitality and bone-crushing heaviness. Gargantuan riffs rise and fall with the drums sounding immense and the bass being a much more audible rumble than the norm.

Of Woe and Wounds combines the classic artefacts of Traditional Doom with elements of the more modern exemplars of the style such as Down and Orange Goblin to result in a truly wonderful album that combines the best of old and new. I even hear strains of Alice in Chains on occasion and it sounds just great, (Lamentations of a Broken Man, for instance).

The singer has a powerful voice that rings out strong and clear. He effortlessly becomes the focal centrepiece whenever he's around.

Each song is a first-rate example of Doom Metal and of the depth that it can have. The tracks have a longevity about them that most bands would kill for. Carefully constructed Doomscapes and crawling riffs dominate the proceedings and I couldn't be happier listening to this.

Apostle of Solitude have produced something special here. Make sure you get in on the action.
http://www.metalhammer.it/album.aspx/25034/16061/apostle-of-solitude-of-woe-and-wounds/
(translated by google)

I swear, I've got tried, in every way, I waited to write this review, I listened and listened to the disc, I tried to examine it in a highly critical, I compared it with some discs fundamentals of the genre, but nothing, "Of Woe and Wounds" I was chained.

We speak of the Apostle of Solitude, speak of Doom, we're talking maybe my favorite kind, not the kind that I listen to more ', but if I were to compile a list of the virtual disks in my heart, there would be many disks or disks where, however, the doom doom got to do something.
The Americans Apostle of Solitude before this album, though appreciating, they had gained a lot of attention on my part, but once it comes into contact with the platter in question, everything 's gonna change. How so? I do not know, I do not know how it happens that a good band but "normal" is transformed at a stroke by the masters of a genre difficult to do as the doom. It 'cause let's face it, missing a hard doom and' easy, center and 'difficult. The atmosphere leaden, slow rhythms, sounds huge, heavy, in the long run they can get tired and if you are not 'really good, hold the tension high for an entire full length, can' really become a complicated undertaking. The Apostle of Solitude succeed in the task so well that on the contrary you get to the end without being even aware. Mainstays of the band are drummer Corey Webb and singer Chuck Brown, who, however, has a voice clean but extremely expressive, evocative and almost has the great gift of creating a fascinating contrast with the black wall of sound raised from the rest of the band, as a ray of sunlight that filters in a leaden sky that is getting ready for a storm.
A great merit of the Apostle of Solitude 'was to create a sound doom for all purposes but which also uses classic elements such as accelerations or real riding metal or sudden sferragliate to look at the name Candlemass Candlemass and I do not' come out in case 'cause all listening to "of Woe and Wounds", the comparison with a record like "Nightfall", made more' times peeking in my little head. Now in Scanzo of doubt, I'm not 'saying that the disc in question can be matched to the absolute masterpiece of Candlemass, but I think the Apostle of Solitude we have approached a lot especially in the spirit. And here I know ', I know, I'm' risk, but I think that one of the responsibilities 'of the writer and music' to always be fully transparent with their readers. Encased in a charming instrumental intro, which then cleave 'as in a perfect circle with the' outro closing, all 8 pieces that make up the album are of the highest quality 'games, syncopated guitar melodies sometimes really epic, as in the case dell'opener "Blackest of Time", or large metal outbursts of "Whore'Wings" or the amazing "This Mania". But there are also songs more 'typical doom and I can not mention "The Lamentations Of A Broken Man", with a gait so majestic and ethereal chorus so as to make me feel real physical sensations and here the approach to a song like "Samaritan" has touched me more 'times neurons. Very particular also the trend of "Siren" where also in this case the voice of Brown plays a considerable part, not a track immediatissimo but I can assure that exits to the large distance. Another absolute gem of the disc and then 'definitely "Moon" and returning to a Candlemass "Mourner's Lament" maybe less epic, more' introspective, but certainly not less effective. Very nice and also the sound of guitars all over the platter, a hollow sound, and so enveloping that you can suck in of itself 'around the world.
I hope I have made you realize how hard this hit me, maybe nothing like this in 2014. Talk about doom and not 'simple' cause is the spiritual side of hard music, and 'the blues more' intense (I dedicate this to Stiv), and as such, the subjective assessment has a specific gravity even more than other genres, but as I said earlier I've got it all set to be the most 'objective as possible, but in the face of such fierce roar of real metal and dark I could not help but give in.
http://www.doom-metal.com/reviews.php?album=2657
For the better part of a decade, Apostle of Solitude have been one of the banner-wavers of Traditional Doom in the midwest U.S., helping to keep Trouble's torch lit alongside the dearly departed The Gates of Slumber. Like The Gates, Apostle had shown themselves to be a good band from the start, but it's now, several albums in, that they are truly hitting their stride and evolving into one of today's best.

'Of Woe and Wounds' is polite about introducing itself. It doesn't beat down your door. Rather, you can watch album opener 'Distance and the Cold Heart' walk up at an affable pace, politely asking to be invited in for an hour's visit. And what happens next is bound to get a smile on your face, for 'Of Woe and Wounds' is indeed that old friend you're hoping it would turn out to be: a concrete slab of warm-blooded, backyard-grown Doom metal that is about as close to dictionary-precise as can be had today.

I'd like to take a moment to note especially a favorite building block of Doom metal: the monstrous, authoritarian drumbeat of widely separated kick and snare hits with steady half-note crash cymbal hits holding it together. This is a drumming signature that just screams DOOM, and when you hear it, it's unmistakable what manner of metal you're listening to. 'Of Woe and Wounds' has this in spades. They hit several other touchstones, including variations on the classic swaggering groove on 'Push Mortal Coil' and a helping of tasty wah-pedaled guitar leads, though none here rise to the level of the great solo in 'Confess', from their first album.

This being an Apostle of Solitude record, you likely already know what you're expecting. It's clear they're plenty adept at sticking to the plan, but it's worth asking: are there any surprises? Does this new album distinguish itself in any new ways? What sets 'Of Woe and Wounds' on its own level is that while Apostle of Solitude previously used a core set of ingredients to write various types of songs with uneven results, now they're using a few more ingredients to tighten the bolts on only what they've done best. The increased focus lifts 'Of Woe and Wounds' above its predecessors by keeping the momentum and energy level high, no matter the tempo. (Things get more morose on the final tracks of the album). Added spices include a second layer of Chuck Brown's smooth yet strong vocals, guitar harmonies in a register lower than typical in metal (see, for instance, 'Blackest of Times'), and snappier riffing that sometimes resembles a Doom take on Thrash instead of the usual NWOBHM. Apostle take better advantage of having two guitars than ever before, joining and separating them at all the right times. The flat-tire bass tone is something I could do without; I find it a little gross and unnecessary to the album, but hey, at least it's audible!

Apostle of Solitude have really stepped up with this album, keeping their not-to-be-questioned roots in place while jettisoning past flimsiness and upping their strength in every area. 'Of Woe and Wounds' boldly goes where plenty of traditional doom has gone before while still bringing something of themselves to the table. And that is a welcome thing. Doom lives.

Reviewer's rating: 8.5/10
http://echoesanddust.com/2014/10/apostle-of-solitude-of-woe-and-wounds/
Oct 22, 2014 \Released on October 31, 2014 via Cruz Del Sur Music
Apostle of Solitude's third album, Of Woe And Wounds, is a relentless beast. Layered in riffs and anguished vocals, the Indiana band rustle up a stirring stew of doom, which treads a well worn path to the inner depths of a sludgy hell. They also do it with such aplomb and tenacity that it takes on an almost enjoyable nature throughout and you'll be hard pushed to find much wrong with the album.
There is also not an awful lot different to this album from countless doom bands either and if there is a failing it is in sticking to what they know and not branching out. This is small fry though as let's be honest, doom isn't a genre that expects experimentation. Doom is about the riffs…and riffs is what you get.
To fully enjoy this album it needs to be played loud and in an open space. The measurement of the instruments on songs such as 'Whore's Wings' and 'Die Vicar Die' are such that there is a wonderful pace to them. The latter in particular betraying a more commercial edge which comes as a bit of a shock.
Heaviness abounds though and the great opening of 'Distance And The Cold Heart' and 'Blackest of Times' take an age to build before pummelling out the riffs until the headbanger in you is content. You can't ask for much more than that.
The playing is superb throughout and the clean vocals suit the music well. We must also mention the rather fantastic drumming that continuously keeps the fires of hell burning when all else is building to riff after riff much like the ending of 'Die Vicar Die'. This is just the start though and proceedings get decidedly heavier over the next few tracks.
'Push Mortal Coil' borders on the brutal at times at it builds into an almighty blast of riff hewn hell before 'This Mania' pushes things off the scale with its tormented vocals and super heavy music building on a blues base, but turning that Sabbath legacy into something altogether more contemporary. It's a song which shows how far doom has travelled and bears witness to a future that may not be reliant on a past.
'Luna' is a plodder in a good sense. Taking its time it has an almost Chris Cornell feel about it which is slightly alarming, but soon develops into something a lot more progressive as the guitars take time out to highlight more melodic approaches, which show a band willing to push at the edges of the genre. No too much though as after all, it is all about the riffs.
In a year of excellent doom records Of Woe And Wounds may just pass people by as on first listen it sounds like just another doom album. Beneath the surface though there is a lot going on and it pays dividends as when it works this album is brilliant. It's heavy, it's doomy and it has all the requisite anguished howls. It works and if that is good enough for Apostle of Solitude then it better be good enough for you.
http://doomedandstoned.tumblr.com/post/100751956528/aosreview
Doomed & Stoned Reviews
'Of Woe and Wounds' ~ Apostle of Solitude
By Melissa Collins
Apostle of Solitude. One who advocates being alone. I cannot think of a better name for the Indianapolis heavy metal band that formed a good decade ago. For the lack of a better term, this is true doom. This is tender and righteous doom. This is doom the way it's meant to be played, sans gimmicks and trends, which Apostle of Solitude are happy to leave behind in order to create a monument for future bands to come back and visit again and again.

It's worth mentioning that frontman Chuck Brown was the drummer in the band that originally put my town of Indianapolis on the doom map to begin with: The Gates Of Slumber. I'm not certain how his transition to Apostle of Solitude happened, but I'm glad it did. As much as I'm not a fan of comparing bands, I think Apostle of Solitude have developed musically to the point that they can be compared to their late, great Indy counterparts, The Gates of Slumber.

Apostle of Solitude have proven exactly how genuine and authentic they are in their carefully crafted new album Of Woe and Wounds (releasing October 31st in Europe and November 4th in North America on Italian label Cruz Del Sur). One thing that makes this album so honest and straightforward is that the songs seem to be written to play live. No filler here – each and every track is ideal for live performance. In fact, I've witnessed several of these songs in concert and can say that they captured the excitement of the stage quite well on this recording.

"Distance and the Cold Heart" starts the album with a short introduction that sounds like something you might expect from Kirk Windstein. This sets the mood in a very beautiful way and is an effective passage to the next track "Blackest of Times." Upon this song starting, the riffs start pouring out. This track is meant to be enjoyed by synchronized, dramatic headbanging from everyone in the crowd. I should know, I've banged my head to this one live more times than I can count. Chuck Brown has amazing pipes and I get serious Robert Lowe vibes from him and those creamy vocals make this song even more majestic.

The next song is just as great. More melodic and faster rhythms but without losing any of it's heaviness, "Whore's Wings" is definitely one to get the crowd worked up. It goes without saying that one shouldn't mosh to Apostle of Solitude, but there is no doubt that this song makes you want to get up and move. Everything about this track is spot on, including a nice moment of guitar soloing and some spotlight on bassist Dan Davidson.

I find the seventh song "This Mania" one of the most zealous tracks on the album, making it among the most memorable for me. Some of you may recognize it from the three way split Apostle of Solitude did with The Rituals of The Oak and The Flight and Sleipner back in 2011. This track begins and ends with some aggressive guitar work, with a slower tempo in the middle that keeps the song interesting so it doesn't feel repetitive. Props to Chuck and Steve Janiak (also the guitarist for stoner/southern band Devil To Pay) for their incredible talent.

Another song worth mentioning is the title track "Luna." This is just over eight minutes of epic emotional lament. The sound is huge and could be compared to the almighty Yob. Chuck's vocals are melancholic and heartbroken. By far, this song best represents doom more than all the others and provides imagery of an embittered funeral march.

I absolutely cannot say enough good things about Apostle of Solitude and Of Woe and Wounds. This album should attract all kinds of fans, from serious doomers to casual metal listeners. Most people might recommend this to fans of Candlemass and although this is somewhat splitting hairs, I'd have to correct that statement to say this is closer to Solitude Aeturnus. The album is all-consuming and moves like lava – a substance that slowly moves and melts all it encounters, leaving behind a blazing trail that hardens as a rock solid reminder of its devastating impact. From the moment of the first riff, I'm hooked and not wanting the experience to stop. Apostle of Solitude are as heartfelt as they are adrenalized, as spirited as they are deep. A very memorable album and one of my favorites so far for 2014. This is a must hear and a victory for American Doom.
http://powermetal.de/review/review-Apostle_Of_Solitude/Of_Woe_And_Wounds,24916.html
(translated by google)

Strong, varied Doom Metal album, with very slight slope conditions slumber doors.

As my long time very strong love for Doom in the last few months is a little rusty somehow, and I SOLITUDE eh never had the Indiana Doomkommando APOSTLE OF the top of my list, it took some time until I was able to open the album and succeeded to that of igniting with me, but within the three weeks it had the maturity time, until I can write these lines, the disc is me then but still dear to my heart.

The key to success lies with the quartet from Indianapolis in the fact that the songs are indeed quite penetrate even in seasons of up to eight minutes, that's also the absolute maximum, and that to give yourself the longer pieces while relatively compact and get to the point. Another bonus point is that riffs and sound, but very bulky and oppressive doomtypisch come out of the speakers that the tape was made, but at no time in perseverative infinite loops or monotonous sound collages. The Apostle of Solitude just do not play stoner rock, no sludge, no retro rocking proto-doom and psychedelic no runs, but they celebrate the massive reef that Steve Janiak and Chuck Brown dominate really masterly. So the gentlemen leave the neck muscles of the listening fans are working, and they force the listener with solid hits such as' Blackest Of Times for although the pacing rather worn, the quality of her but damn intense Head Bangeren.

But I choosen Doomgeschwader is also when the pace once tightened a little, as is the case with 'Whore's Wings', which is a wonderful substitute drug for whether the tragic end of THE GATES OF SLUMBER still persisting in mourning Indiana -Doom community delivers. After drumming frontman Chuck there for several years, so this is like less surprising. The very worn, elegiac 'Lament Of A Broken Man' makes it very convincingly between BLACK SABBATH and in this case, keyboard free KRUX-gravity comfort, while 'The Vicar The' largely again takes a harder, more metallic twist to be in between but also very relaxed and full of feeling to give.

Also know later in ultra-heavy-designed steam rollers as 'Push Mortal Coil', the relatively nasty, vicious and powerful betrommelte 'Mania' or the final double from the slightly spacey-inspired, wistful and very melodic singing 'Siren' and the final, shuffling Achtminüter 'Luna' to convince, and Chuck's insistent, voluminous singing at medium altitude and clear realms is a real Hinhorcher. So in the end remains a very fine Indiana Doom work, which the snooze doors touches on a song or two, but not too much leans against compatriots. For this, the album is highly varied and presented wonderfully song-oriented, but also fulfills all requirements for an intensely doomy atmosphere. Highly Recommended!

Rating: 8:00
Editor: Rüdiger floor
http://www.metal-temple.com/site/catalogues/entry/reviews/cd_3/a_2/apostle-of-solitude.htm?keep_session=999132850
By Jeff Legg at 12 October 2014, 11:18 PM
Ok, this is the one. The one that my doom appetite has been craving for, what seems like, forever. I'm a huge doom metal fan and rely on this style of music the same way that some people rely on Valium or Xanax; it's my escape from stress and anxiety on those days that I just can't deal with the demands of life. And APOSTLE OF SOLITUDE, with their 2014 release, "Of Woe and Wounds", is the strongest of doses, the elite of the elite, and is so heavy that their music should come with some kind of a warning label.
Hailing from Indianapolis, Indiana, APOSTLE OF SOLITUDE consists of Chuck Brown (ex-THE GATES OF SLUMBER, ex-THE KEEP) on vocals and guitar, Steve Janiak (DEVIL TO PAY) on guitar, Dan Davidson (ex-SIGNS OF DECAY) on bass, and Corey Webb on drums, and with "Of Woe and Wounds", they return to action with, what I consider, their finest offering to date. The music is Doom Metal in its purest sense and they bring to the table a sound that could be described as a mixture of BLACK SABBATH and ALICE IN CHAINS. All of the instruments are down-tuned to perfection and gallop along in masterful harmony, at times at a head-banging tempo, while at other times, they drizzle at the speed of cold honey. Brown's vocal range is vast and spot on, and has moments in his lower register that eerily reminds me of Layne Staley (ALICE IN CHAINS). The guitars are haunting and heavy as hell, and will consume every bit of strength in your body by the time you're done with this record. The bass and drums sealed the deal for me, delivering a bottom end that will destroy your sub-woofer, if you get too crazy. Wrap this all together, and you have a huge slab of lead. With the momentum APOSTLE OF SOLITUDE has gained in the past couple of years, this monster release should have these guys at the forefront of the doom metal genre in the near future.
If you're like me, and grew up listening to BLACK SABBATH, and then found yourself attaching your emotional woes to bands like, TROUBLE, CANDLEMASS, SAINT VITUS, and THE GATES OF SLUMBER, or if you just long for those dark and heavy, down-tuned classic sounds that started the whole doom/sludge movement way back when, this masterpiece was tailor-made for you. "Of Woe and Wounds", is the Doom Metal release of the year, by far.
http://www.rock-circuz.de/2014/review-apostle-of-solitude-of-woe-and-sounds/
(translated by google)
October 12
Review: Apostle Of Solitude – Of Woe And Sounds

As APOSTLE OF SOLITUDE admirer I'm certainly not entirely impartial in terms of a review, but this is also not necessary for their new album the guys from Indianapolis, because "Of Woe And Sounds" is also without my praise a great, atmospheric, become melodic and sometimes epic Heavy Metal / Doom plant. After the short intro, it is with 'Blackest Of Times' musically bleak, angry and heavy – what a Slow-Doom-Hammer, ideal for slight nod – wonderful. Just fantastic, but much faster presses 'Whore's Wings' something at that pace. The fantastic riffing can get out the air guitar and a total of reminds me of the overall impression of the cool ARGUS. Who likes it rather epic and sublime, gets to the beautiful 'Lamentations Of A Broken Man' total full-service – headphones on and melt away. Not less beautiful, but a bit rougher concerning the sound (guitar sounds a bit like Stoner), the ears are 'The Vicar The' spoiled before it musically goes towards ARGUS. Great riffing, phenomenal melodies and a catchy chorus invite his native plant turn up something more to abzufeiern 'Push Mortal Coil' due – Killer !! Even faster rides the somewhat oppressive of Sound 'Mania' through the night and supplied us with attack riffs. Stark contrast, then 'Siren', which starts as a Sludge-number, but rather in the direction of Doom with some tendency developed for post-metal itself. For the final track I can only guess: Sit on the headphones and feel the power of the tracks. Oppressive riffs in a wonderful atmosphere, slow and poignant with a chorus reminiscent of a little of ALICE IN CHAINS, what is absolutely, positively meant for the choruses of the band from Seattle are now times breathtaking. Exactly, with 'Luna' there are the best for last. The same time longest song on "Of Woe And Sounds" shows once again well, where the strengths (melodic solos, crunchy riffs and wonderful melodies) are of great band.

One can only hope that the band finally reaps the long-awaited and well-deserved success, while at the same time the wonderful underground label Cruz Del Sur indented slightly more into the spotlight. Because there is in the music business is still enough injustice, but I do not want to again upset about it and rejoice rather in such publications (04/11/2014) – thank Cruz Del Sur Music and APOSTLE OF SOLITUDE thank !!!
http://www.seaoftranquility.org/reviews.php?op=showcontent&id=16724
Ahhhhh, the riff…and when you talk about the almighty riff, generally it means that doom is ever present. That is indeed the case with Of Woe and Wounds, the latest Cruz del Sur release from Apostle of Solitude. This is heavy, heavy stuff, sure to please any fan of vintage Black Sabbath, Candlemass, or Saint Vitus with its never ending supply of monstrous riffing, pounding rhythms, and potent vocal attack. "Blackest of Times" is an instant doom classic, with some delicious riffs and a creepy vibe, while the supercharged "Whore's Wings" ups the ante on the speed for a more NWOBHM feel. If you love snails pace, doom laden death marches, look no further than "Lamentations of a Broken Man" and the absolutely crushing "Luna", each one mesmerizing examples of psychedelic, almost funeral styled doom. I can't stress enough just how good the vocals are here, with soaring passages keeping up with the monstrous riffs on the beefy "Die Vicar Die", and adding a wonderful sense of melody to the chugging "Push Mortal Coil". But, as we said at the beginning, with this style of metal it's all about the riffs, and with tunes like "This Mania" and "Siren" you certainly get plenty of juicy, crushing riffs, topped off by the occasional wah-wah solo or tasty harmony lead.
Of Woe and Wounds is a very well done doom record, full of everything we love about the genre. It's another stellar release from the always dependable folks at Cruz del Sur, and a band that any doom fan will need to put on their immediate radar.
Added: October 7th 2014
Reviewer: Pete Pardo
2014-10-02 the Sludgelord Blog
Thursday, 2 October 2014
Words by: Chris Tedor

Our American answer to the current British and Scandinavian invasion of doom, Apostle of Solitude's newest puts everyone on notice just how good they are going to need to be after hearing this one. Beginning with a NOLA-esque southern fried interlude Apostle of Solitude's newest "Of Woe and Wounds" sets the tone right off the bat seamlessly transitioning into the second track's awesome doom opening riff. This is the kind of riff that crowds can't help but infectiously headbang in unison, pure unadulterated doom majesty. I also feel it worth mentioning just how fantastic the vocals are, it's so nice to hear decent singing and this guy has a really unique and interesting style.

After hearing "Die Vicar Die" you too will want him to die. A riveting and epic track with a stirring bridge and fantastic intro, topping it off with some delicious ecstasy inducing wah solo. Can't help but wish Apostle of Solitude would have let rip with a longer solo here, however this is one of my few complaints with the album. Indeed you better have a fire extinguisher handy because this dude rips on guitar when he does short leads throughout the album. The sixth track "Push Mortal Coil" pushes the rhythm guitar into chugging riff mode, reminiscent of Mercyful Fate's first track on their classic "Don't Break The Oath." The bridge on "Push Mortal Coil" is pretty damn badass with some unusual open sounding hanging riffs. This is the most artistically pleasing track on the album for those of us who like our music snobby (like me).

"This Mania" might be the most intense track on the album with some furious stomping riffs over the first two minutes, making you wish you were in a crowd jumping around. There's just something about chugging triplets that's just damn fun to listen to. On the 3rd to last track "Siren" once the verse kicks in, it has a very unusual guitar riff that I can only describe as being Medieval-inspired or possibly Celtic in origin. Its syncopation reminds me of some bagpipe tunes, my cousins used to play when they got drunk at weddings. Tantalizing us with another short but awesome solo near the end, I repeat 'tear down this wall Mr. Gorbachev and let this man shred'.

The answer to the question, why do songs about chicks always end up being the longest tracks on every album has never been answered. That being said the second to last track "Luna" is in fact epic and awesome with a slew of funeral dirge guitars and mournful vocals. Keeping the tempo low and slow this is perhaps the doomiest track on the record and Apostle of Solitude fully commits to the riff on this one.

The overall mix is fantastic, drums are nice and clear across the spectrum and have a nice loose John Bonham sound. The guitars are clear and huge and the bass is fuzzy and warm. This is one of the best albums I've been sent to review so far and should be in many top 10 Year end lists. For fans of Sabbath inspired early 80s underground metal, they strike me as the kind of band that draws half hipsters and half motorcycle gangs. Finally, I bet they rule live. The vinyl edition will also have two bonus tracks.
2014-09-16 Hellride Music
By Jason Hillenburg
September 16, 2014
This is a Statement. While many bands start new projects with the hope they are creating their finest work, I won't dare suppose that Apostle of Solitude entered the studio with the avowed intention of recording a career defining effort. However, the new album Of Woe and Wounds is just that. The band's debut for Cruz del Sur Music is a consolidation and refinement of band's potential. In comparison with their earlier full-length releases, the songs on Of Woe and Wounds exhibit cohesion and economy that their predecessors lacked in this degree. Between the cinematic fade-in and fade-out bookending the album is a varied, uncompromising, and superbly produced collection of songs that elevates Apostle of Solitude from a rising force to one of the elite bands working in this genre.
The opener, "Distance and the Cold Heart", is a well-constructed instrumental with darkly eloquent guitar work from guitarists Chuck Brown and Steve Janiak. This piece is the sonic equivalent of a long tracking shot beginning a film. However, rather than introducing the listener to a situation or cast of characters, the mournful sweep of this tune ushers the listener into the album's emotional environment. Like any individual work in an artistic field, developing an unique, recognizable style is a deceptively daunting task. The musical elements defining Apostle of Solitude are all here. There is the compelling collision of European and American metal influences heard in its spacious movement, focus, and fluid dual guitar work. There is the white-knuckled, claustrophobic intensity – despite its languid tempo, the production brings the music close to you and heightens its strongly emotive qualities.
"Blackest of Times" begins in full-on bulldozer mode with a simple, but monolithically effective introductory riffing. Chuck Brown belts out an impassioned vocal over a grinding, brutally effective riff that dovetails nicely with the lyric. Brown's direct, muscular poetry about personal dissatisfaction and desperation confidently straddles the line between specificity and the universally resonant. In too many metal bands, lyricists are content to play the lowest common denominator and litter their songs with an assortment of wizards, demons, and dark lords. Apostle of Solitude chooses to confront the demons within. The bands pull off the song's final shift into a blistering up-tempo instrumental break with such seamless finesse that it highlights another area of improvement over the band's earlier albums. A sharply discerning editorial eye has emerged and where earlier Apostle songs might have contained a section or more than sat uneasily in a song, the instrumental parts on this record feel like they lock tightly in with the song's overall scheme. This sort of cohesiveness in songwriting is one of the hallmarks of a classic.
The catchy, energetic riffing driving "Whore's Wings" never relents for a second. The guitarists blaze through verses, instrumental breaks, and bridges with a head-down ferocity that immediately captures the attention, but the inventiveness of the band stands out here in other ways. Like the earlier song, there is a newfound inevitability in how each Apostle of Solitude composition moves. Different musical motifs flow into each other without any stitches showing and possess a sense of inevitability that suggests these songs always existed, but were waiting for this band to write them down and record an album.
"Lamentations of a Broken Man" is, undoubtedly, one of the album's strongest tracks. I find it interesting how much space Apostle often creates in their tracks. Passages resolve and linger in the air for a brief moment before the next note while slower tempos likewise create pockets in the music every bit as integral to the overall whole. The song also highlights the band's blossoming ability to write longer songs, clocking in between five to seven minutes, without weighing them down with superfluous passages. Ambitious songs deserve room to roam, but they likewise benefit from clarity of purpose and the aforementioned editorial eye that shows players what to play and when to stop playing it.
"Die Vicar Die" is another of the album's standout songs. One of the song's impressive qualities is how the music and lyrics work together to create a powerful narrative. They groom each part to compliment the other so that, when the story reaches its climax in the second half, the music responds appropriately. The tempo picks up and any spaces heard early on vanish. The guitars solos near the end are brief but outstanding.
The band romps to great effect on "Push Mortal Coil" and the strutting riff is perfect for this song about fatalistic behavior. Once again, the condensed solos sing with such melodic finesse that they join the band as a second vocalist providing brief counterpoint to the chaos surrounding them. Drummer Corey Webb's propulsive timekeeping gives the song much of its drive, but displays his ability to guide the band from a full on run before turning without a blink into slower, fuzzier passages as well.
I responded to the twenty-four-hour-a-day gnawing despair at the heart of "This Mania". Brown conveys the horrors of compulsive, self-destructive behavior with a sort of metal lyricist crossed with a Hubert Selby Jr. command for depicting extreme behavior in a dramatic way. The lyrics, however, leave multiple interpretations are possible. The circular quality of the riff, likewise, reminded me of the room spinning drunkenness that comes with boozing too much. There is a theatricality cropping up in this tune that isn't in evidence throughout much of the album.
"Siren" is a slowly evolving, progressive-flavored metal track that never forgets to exert its tremendous power. While the performance hits many of the same highpoints found in earlier tracks, its intensity and fearlessness distinguish it from its surrounding company. There is an almost bowed, violin-like quality in some of the guitar work that added much to an already strong number.
The album's penultimate song, "Luna", opens with ambient atmospherics before the band opens their assault. I hear echoes of Sabbath here, but that raises another important point about this band and album. Apostle is working well within the traditions of the genre, in many respects, but the result is uniquely their own and free from the slavish imitation that affects some practitioners of the genre. There's a wonderful, bluesy solo near the end that contrast nicely with the epic raging around it.
Of Woe and Wounds closes with a reprise of the opening instrumental that fades out at its end. The sense of unity when you finish listening to this album is difficult to ignore. While far removed from their sound and intent, Apostle of Solitude's new album possesses the same spirit imbuing the cornerstone bands of heavy music. It has a recognizable voice, vision, and fearlessness. Get this one when you can.
2014-09-16 In the Pit Radio
Posted on September 16, 2014 by inthepitjb
Doom isn't always low and slow, and it most certainly isn't a forced eleven minute opus with the same recycled riff churning over and over. Doom is so much more than any of that.You feel it in your bones, it consumes you. The pain, the sadness, the despair, and the ugly becomes the most beautiful feeling in the deepest corner of your mind and your gut. Black Sabbath, were the first to fame the devil's note. Witchfinder General followed suit. In the States bands like Trouble, Saint Vitus, and Pentagram planted the seeds of American Doom. Candlemass, Solitude Aeturnus, and The State of Maryland helped further the melancholic movement. Enter Apostle of Solitude, and their latest offering "Of Woe and Wounds"
"Of Woe and Wounds" make a statement with the procession like "Distance and the Cold Heart". The opening track paints a scene of the beginning of a doom mission that is of the utmost importance and flows into the previously demo released "Blackest of Times". The guitars start with the rumblings of a heavy tank slowly patrolling a post apocalyptic street giving brief pause to the explosive start of masterful declaration of an ominous look into the abyss. Dan Davidson's bass is straight up nasty, as your speakers will beg to be spared. Have some mercy Dan, God Damn! The march to the doom chamber is supervised by Doom Battalion Ground Leader Corey. Point blank the AoS rhythm section will leave no stone unbroken, and will have mercy on no soul. The guitar work on "Of Woe and Wounds" by vocalist Chuck Brown and Steve Janiak slays any man, woman, or child that dare try to derail the morose locomotive, while spitting out beautifully soulful and well thought out leads and time changes. As stated earlier, Doom is as much emotion as it is music, and Brown's vocals deliver the declaration of condemnation that make the listener hang on every hook and melody.
Overall , I give "Of Woe and Wounds" a 9 out of 10. Songs like "Die Vicar Die" and "Luna" show the power of crushing guitars, heartfelt vocals, and the band finding it's sound and going with it. Nothing found here is forced and strung out with no direction or clear vision. Fans of the band may recognize some of the songs on the album, but will find them to be heavier, more mature versions than they may remember. In a genre where many on piling on the wagon, AoS find themselves head and shoulders above many of the others trying to be doom. The band take the flag of ruin, and walk through the wake of destruction left behind from what may well be one of the most important records of downtrodden in "Of Woe and Wounds" Minions of Doom, beckon to the nexus of American Doom.
2014-09-15 Maximum Threshold.net
CD review Apostle of Solitude – "Of Woe and Wounds" (Cruz del Sur Music 2014)

AOS forces out this heavy as a boulder release. Their latest release Woe and Wounds is being promoted as "will rank among the heaviest album of 2014". Given this release a double listen to I find myself thinking "Damn they may be right!". It has that eerie doomy vibe but with the creative riffs that throw you off. In other words, this record provides a lot of changes and keeps you listening to it closely because you have no idea what part of the song they are at. Very unorthodox in many manners. When you get your hands on this release listen to "Whore's Wings" it is one chaotic masterpiece. It kinda sums up the whole record with this song. I found myself pounding my fist into my desk listening to the song "Lamentations of a Broken Man" I thought for a few minutes I was listening to some blood thirsty track by Trouble. This song also makes you think what would happen if Black Sabbath had a baby with Alice in Chains while Trouble watched. Pretty wild. "Die Vicar Die" is another oozing doom song which is heavy as hell with great lyrics and beautiful vocals. Yes I used beautiful, because the vocals are great. "Push Mortal Coil" is a really smooth track. Great memorable riff and the lyrics are top notch. Vocally the melodic harmonies flow gracefully throughout. The chorus is extremely catchy and you'll find yourself humming along with this. "This Mania" is a heavy pounding track that keep you listening to it, complete with an explosive solo. This was one of these tracks that when you listen to it you can picture this going over great in a live setting. "Distance and the Cold Heart" kind of sums up the entire release and a great closer which is extremely epic and memorable.

I give this release a 4/5. It provides a lot of power, depth, extremely great vocals, and superb riffs.
2014-09-13 Doom Metal Heaven
APOSTLE OF SOLITUDE 'Of Woe And Wounds' Cruz Del Sur Music (Released 31 October 2014) 9/10Any doom metal band can claim to reach the blackest depths of sorrow and ruin. But for the average listener it's less about the destination and more about how they get there. Some bands walk, some crawl, and some even piggy-back their forebears. When you travel with Apostle Of Solitude, however, you travel by chariot!

This is a band with the skill and poise to temper their passion for all-out misery and forge it into something more dangerous. These American doomsters have harnessed their suffering and breathed new life into it, creating music that is both dark and vivid. In many ways, Apostle Of Solitude are a traditional doom metal band, but they have taken the early 1990s model and then modernised and adapted it to their own will. They are reminiscent of the tragically under-rated German band Doomshine in terms of their sheer quality, consistency and subtle creativity. With maybe a hint of US compatriots Beelzefuzz.

Slow, rapturous riffs fill the air like thick incense, intoxicating. Chunky twin guitars are enhanced by the rumbling bass and immense drums. Chuck Brown's vocals are clean and measured. As the album develops, its processional lumber becomes increasingly limber as greater complexity and variety is added, resulting in a textured and rewarding whole. This is a flag in the sand for American doom metal.

It's not epic as such; nor is it especially heavy or funereal. It's simply excellent metal, jam-packed with interesting stuff and boasting a broad musical and thematic scope. We may be thundering towards the shadowed gates of Hell, but we might as well enjoy ourselves along the way, right?

The first few songs showcase Apostle Of Solitude's ability to write a killer doom metal riff, while tracks such as 'Die Vicar Die' see the band plant a seed and patiently water it until it blossoms into something beautiful. The crunching guitars come to the fore on the mid-tempo NWOBHM/Sabbathian giant 'Push Mortal Coil', which sees them dip a tentative toenail into rocky waters. The following song, 'This Mania', finds the band in even faster, angrier mode, producing an anthemic mixture of Solitude Aeturnus, Pantera and Entombed.

On the whole, 'Of Woe And Wounds' is dynamic, diverse and inventive, although it does pander to the occasional genre cliche. The song 'Lamentations Of A Broken Man' is slightly simplistic, the gloomy grunge of 'Luna' a bit uncertain, like YOB flirting with Alice In Chains, and many of the vocal harmonies are wholly unnecessary – though admittedly more restrained than many bands in this field.

'Of Woe And Wounds' is a powerful and original album, packed with sophisticated and hugely enjoyable doom metal anthems. Indianapolis's Apostle Of Solitude recently celebrated their tenth anniversary and with their third full-length album have staked a claim to be the American masters of doom.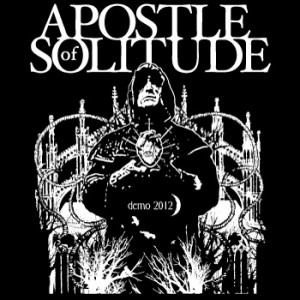 • Apostle Of Solitude – "Demo 2012" …
Few bands can effectively mine misery and heartache with such woeful proficiency as Indianapolis, Indiana's Apostle of Solitude. In preparation for the band's third full-length, the revised lineup—now including Steve Janiak of Devil to Pay on guitar and multi-band alumnus Bob Fouts on bass—has recorded a three song demo conspicuously titled 'Demo 2012'. Despite the lineup changes the overall mission and approach has remained the same. Chuck Brown's unique, emotive vocals are still at the forefront as the band doles out a potentially lethal cocktail of crushing traditional doom, hard rock, and metal. If anything, the lineup change has focused and fine-tuned the band's sound.
'Demo 2012' opens with "Blackest of Times", one of the strongest tracks ever penned by the band. The song's slow build can be attributed to a lone, lumbering doom riff that is eventually joined in unison by a second, overlapping riff, and Corey Webb's hard-hitting percussion. The song's intro isn't overly long before it storms into a mid-paced groove that is highlighted by some heavy-as-Sabbath doom riffs, catchy lead guitar, and propulsive drumming. "Blackest of Times" doesn't merely march to its end, but rather it launches into an up-tempo, head-banging metallic gallop before its conclusion. The second track, "Die Vicar Die", comes crashing in, but eventually puts on the brakes. The majority of the track is slower than the demo opener and Chuck's vocals really carry the weight of the tune. It's not all snail-paced doom and gloom as the song builds in intensity and similar to "Blackest of Times" the song breaks into an up-tempo burner before returning to the chorus and ultimate conclusion. "Good Riddance" closes out the demo and returns to the doom metal chug intimated by "Blackest of Times". "Good Riddance", like the rest of the demo, really stands up to anything in Apostle of Solitude's catalogue.
'Demo 2012' is a powerful statement from one of doom metal's most unique bands. The addition of new members has not drastically changed Apostle of Solitude's overall sound, but has seemed to result in heavier songs with more complexity. The band continues its cathartic examination of human existence by plumbing the depths of despair and uncertainty while crafting memorable tunes. The production of 'Demo 2012' is excellent and the release could easily be marketed and sold as an EP. Based on the strength of this demo Apostle of Solitude's impending third release could result in the band's heaviest and memorable album to date. As a teaser 'Demo 2012' has effectively built suspense and their newest release is highly anticipated. The limited run of CDs has sold out some time ago, but the demo is streaming on the band's Bandcamp page and Sarlacc Productions is planning a limited run cassette release with download code. Highly recommended.
http://www.doommantia.com/2012/09/apostle-of-solitude-demo-2012.html
Reviews for "Last Sunrise"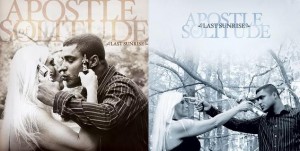 Yes, more can be less. Apostle of Solitude's Last Sunrise (Profound Lore/Eyes Like Snow) comes with a number of bonus tracks, depending on location. In Europe, the bonus tracks are covers of Thin Lizzy, Misfits, and Celtic Frost. In North America, the bonus tracks are covers of The Obsessed, Born Against, and Misfits. (The double LP, which comes in brown/white and clear vinyl, includes all six bonus tracks.) The covers are solid, but they don't reveal much other than good taste, and where the band's vocal melismas (Danzig) and "Ooh!"'s (Celtic Frost) come from. They pad out an already long running time; the album proper is 54 minutes long, and the four-minute instrumental intro could have been dropped. Sometimes the difference between "good" and "great" is what's omitted.
But the meat of the album – eight tracks, no nonsense, 50 minutes – is very, very good. It has both sound and songs, which places it ahead of approximately 99% of all metal. Guitarist/vocalist Chuck Brown once played drums for Gates of Slumber, and Apostle of Solitude superficially shares a similar love for classic doom and heavy metal. But Apostle has no fantasy elements. The lyrics detail a couple en route to a terrible ending – hence the terrible cover art – but they could apply to any relationship filled with drama and deceit. The music also feels realistic, with organic tones and performances. They deliver some of my favorite things about doom – ten-ton riffs, lumbering shifts between gears, and a feeling of not-right-ness. Guitars often converse between high and low registers, perhaps acting out the subject material. Some passages are tender and soulful. Others are caustic, with string bends that hurt so good. I've been obsessed with this album for a while. It's as addictive as a doomed relationship.
— Cosmo Lee
• To say that Apostle of Solitude turned some heads with their debut, Sincerest Misery, would be the understatement of the millennium. That album received unanimously overwhelmingly positive reviews, and won the band a following not only from the "true doom" contingent, but from a wide spectrum of metal fans who recognized genius when they heard it, regardless of genre. But while we're on the subject of genre, Sincerest Misery has in two short years become considered a staple of what has come to be known as doom.

With this in mind, it's with a mixture of trepidation and anticipation that I approach the review of Last Sunrise, the Indianapolis four-piece's follow up, especially after seeing the cover art. It's an odd choice, and while my initial reactions honestly weren't particularly positive, I can appreciate that it's not your typical metal album cover, which is fitting, as this isn't your typical metal album. With the context of the album to frame it, the cover starts to make a bit more sense.

My favorite Slayer album is South of Heaven. One of the things that I liked about that album is that Slayer had just recorded a genre defining album with Reign In Blood, and rather than trying to out-do it with the follow-up, they changed gears entirely. That's what Apostle of Solitude have done here, and the cover helps prepare you mentally for that realization. One of the things that made the debut such a hard hitting and immediate album were the one two punch of the opening tracks, "The Messenger" and "Confess". Here, the pacing is entirely different, with a more subtle opener in the down-tempo instrumental "Last Sunrise (Requiem)", which leads right into "Acknowledging The Demon", a short track that doesn't waste any time, clocking in at only three minutes, and then we're treated to yet another instrumental, "Other Voices", which is punctuated by a distinctively Southern flavored solo. This then leads directly into the next track, "Letting Go of the Wheel", which is the first longer track, and starts off with softer psychedelic edge, with a touch of unsettling dissonance to add even more emotional tension, before it kicks into full gear and hits you in the skull with the full force of doom riffs. The flow of these four tracks is great, and drastically different from the pacing of the debut, which also had a great and memorable flow.

Next up we're treated to the track "Hunter Sick Rapture", which invokes the same overtones of pure metal that "The Messenger" did on the debut. A standout track, which leads into the next standout track, the melancholy and beautiful "December Drives Me To Tears", which is laced with lush, haunting melodies that initially bear little resemblance to anything doom. There's a cool piano interlude, which is a nice touch, and show's the band's willingness to try new things and add new elements to their already massive sound. This is where the iconoclastic album art starts to make a bit more sense, when you realize that these are four guys who have brought a lot to the table on this one, from both the traditional realms of metal, but their willingness to explore outside of those confines have allowed them to soar to new heights, and this song probably showcases this best. Needless to say, it's one of the album's emotional high points; it's ripe with rampant sorrow without resorting to even a hint of melodrama. This tune ties things up about as heavy as you can, with slow tides of pure doom.

"Sister Cruel" is a slower track that would have fit in well on Sincerest Misery, and climaxes with a fiery solo. It's solid, but not as stand out as the next song, "Frontiers of Pain", which starts off in the same territory before blazing into almost hardcore punk territories, which is a refreshing and unexpected change of pace. The album's closing track, "Coldest Love", shows terrific understandings and control both of dynamics and variations on a simple but memorable theme, which have been two of this band's strong points from the get go, so it's fitting that it ends the album. The twin guitar gallop that climaxes the tune brings it all home, and then some.

Worth noting that the European version includes six cool cover choices, starting off with a killer cover of The Obsessed's "Streetside", which is remarkably faithful, and ending up with a cool and very noisy rendition of "Procreation of the Wicked" by the mighty Celtic Frost. Two Misfits covers, a Born Against tune, and a heavy as fuck version of Thin Lizzy's "Emerald" round out this bonus treat. Very cool to hear.

To wrap things up, this was one of my most anticipated releases of 2010, and it didn't let me down in the slightest. It's hard to say if they topped Sincerest Misery, because like I said, they didn't try to out-do that album, they came in with a fresh approach and vision, added some new elements, and made an album that stands on its own as undoubtedly one of the finest that will be released in 2010.

-Stonerrock.com
• "Here Lies Captain: He Judged Books By Their Cover."That's one of many possibilities for this ol' buzzard's eventual tombstone. It's a lesson I have yet to learn in nearly four decades of existence, and it's one I'll likely continue to fail all the way to my grave. For as long as there are Frank Frazetta covers to draw me in, there will always be Accidents of Birth to test the other end of my tolerance spectrum. And by God, I can't help but judge all these books by their cover. I understand in the case of records it's the music that obviously matters, but can you honestly tell me you can listen to Don't Break the Oath without thinking of that iconic cover? I suppose that means I'm a man dominated by the visual, and I'm sure the fellers in Apostle of Solitude are already sick to DEATH of expounding on the choice of artwork adorning the front of their second full-length, but it's something worth mentioning because it is so very…different. And that's precisely the point: it falls waaay outside what's considered "conventional" for a heavy metal album cover, so in that regard the band has certainly succeeded in separating themselves from their peers. I happen to be of the group that feels the "Express for Men Photo-shoot Gone Terribly Awry" isn't exactly the best representation of the caliber of high-quality heavy doom metal that's under the hood (especially the European version featuring a lip-locked version of the two), but then I ain't the one calling the shots. And honestly, after spending a few weeks with Last Sunrise, the cover has strangely become more…reasonable. The album nearly feels like a movie because of how seamlessly these tunes flow into one another, and the musical tale at its core runs a gamut of grief, so the thought of representing the entire work with two protagonists standing anguished with guns-to-the-head doesn't seem so awkward to me anymore. Über dramatic, perhaps, but not nearly as peculiar.

But enough about the cover art.

For those unfamiliar with this relatively obscure Indianapolis act, they sweat and bleed heavier-than-thou doom metal. Doom cut from a similar cloth as fellow Indianans, The Gates of Slumber, as well as bands such as Finland's Fall of the Idols and Pennsylvania's Argus, so expect a fairly large slab of traditional, galloping heavy metal to be cut into the classic Vitus-stock. The band's previous effort, 2008's Sincerest Misery, was certainly no stranger to a cheerless atmosphere, but this record turns up the lugubrio-meter to a head-hanging level-11. The self-titled "intro" slugs from the gate as a 4-minute funeral march with enough heft to drive coffin splinters under your nails and jumps directly into the smooth and heavy rumble of "Acknowledging the Demon" — a tune packed with somber little lead flourishes that eventually melts directly into one of the album's heaviest hitters: the instrumental "Other Voices." When this tune first hit my speakers I had to skip back a few times just to fully smother my dome in its crushingly heavy birth. Vocalist/guitarist Chuck Brown has to belt out a T. Warrior "UNGH" just to be able to handle the heft of the opening riff, and that's a motif employed multiple times as these nine tunes bend and sway from stark mellowness to cudgeling cranial contusions (the 2:39 point of "Hunter Sick Rapture" is another heart-stopper). The 9-minute "Letting Go of the Wheel" is a pretty gray-day's worth of drudging, mellow strumming before the embers of a snaky lead eventually usher in some hulking heft at its 7:30 peak. And the crown jewel for yours truly strikes with the outstanding "December Drives Me to Tears." This whopper starts off rather unassumingly with a bit more of a "rock" feel to its dark & smoky opening, but the bruising riff that hits at 4:00 is a deadly omen for how pulverizing the tune becomes during its last minute-and-a-half, leaving the listener broken, beaten and damn-well ready for more.

And as true as those first six cuts strike, the album continues to swing upward from there. "Sister Cruel" has arguably the catchiest chorus and strongest evidence of fiery lead-guitar wizardry towards its finale, and the album closes out with two numbers that admirably walk the line between despairing doom and chugging/hammering fist-in-the-face-of-all-you-hate heavy-goddamned-METAL with "Frontiers of Pain" and the excellent, "Coldest Love." Both feature the swiftest measures to be found on Last Sunrise, with the previous breaking things up with an Entombed-esque hammer at its midpoint and the latter closing the door on the story with a ridiculously galloping span that'll have the hairs on your arms standing at full, saluting attention.

But that's not all…

Both the US and European releases feature three different cover-tunes tacked to the end of the record. The Profound Lore/US version weaves a beautifully dirty version of The Obsessed's "Streetside" and very Apostle-y translations of The Misfits "Astro Zombies" and "Mary and Child" from Born Against (!). The Eyes Like Snow/European release features covers of Thin Lizzy's "The Emerald," Frost's "Procreation of the Wicked" and The Misfits "Where Eagles Dare." — a great way to close out an already excellent 50+ minutes of heavy doom metal.

All this babble and I didn't even get a chance to spotlight the powerful force behind Corey Webb's stellar drumming and Chuck's (once again) very impassioned singing. I guess that only further demonstrates how great an album I feel Last Sunrise truly is. As it stands, this is certainly my favorite doom record to drop in 2010 so far, and it'll certainly be interesting to see how it stacks up against a few other monsters expected to hit later this year (looking at you, Orodruin, Place of Skulls and 40-Watt Sun.) If you're a fan of traditional doom and aren't already familiar with these dudes, I suggest you swallow whatever trepidation the cover might deliver (I said "might," Solitude-ians, "might!") and let this brooding, walloping album whip you to the dirt. You'll be happy you did.
-MetalReview.com
• Apostle of Solitude do not defy expectations; they're pretty much what you would expect from a band by that name that was started by a former drummer for the Gates of Slumber. Doom metal classicists, obsessed with the Obsessed and worshipping in the cathedral of Cathedral, they come across as a pre-Wino St. Vitus fronted by the dude from Only Living Witness (admittedly not a doom act). But that's OK, because it's all in the execution – and Apostle execute the shit out of it, just like what that goth chick and meathead are about to do to each other on the unfortunate album cover.
The first thing you notice about Last Sunrise is how great it sounds, especially the drums. Whoever recorded this struck the perfect balance between the raw, live-in-the-studio vibe and sheer heft that a proper doom metal atmosphere requires. And Apostle really go out of their way to set the mood. They start things of with the title track, essentially four minutes of building war drums, before kicking into "Acknowledging the Demon", a Candlemassive crusher. "Other Voices" has a straight-up Amon Amarth marching-to-the-sea guitar riff mixed with psychedelic Sabbath shredding. "Coldest Love" trudges through sludge for eight long minutes before erupting into a crazy catharsis. And, for American audiences, they close things out with surprisingly faithful Obsessed, Misfits, and Born Against covers, just to prove that their record collection doesn't consist entirely of mopey bastards.
-Decibel Magazine
• If you go online and do a search for Apostle of Solitude / album cover, you're likely to find as many people complaining about the artwork adorning "Last Sunrise" as those praising the Indiana based doom band's excellent sophomore effort. First, you noticed the cover, didn't you? That's important. Second, the album is so good and so amazingly powerful that fretting over two pained lovers pointing guns at each other's heads will seem silly.
The nine new cuts (and three covers, including an incredible version of the Misfits' "Astro Zombies") are rich in emotion, hammered home by Chuck Brown's gripping pipes. The ambiance is steeped in '70s doom, no doubt, with a little Gates of Slumber-style slogging (Brown was once a member, by the way), and there's so much to absorb that repeated visits are necessary but never a chore. Triptych "Acknowledging the Demon" / "Other Voices" / "Letting Go of the Wheel" is a chilling portrait of someone being overrun and overruled by his / her dark side; "December Drives Me To Tears" conveys both the chilling isolation of the winter and fear that life really will spring eternal; and "Frontiers of Pain" has a sludgy, Celtic Frost-like bruising that starts a full gallop when you least expect it. Don't be surprised when this record, like the shadowy figures described here, takes over your life.
-Pittsburgh Daily News
• One of the most talked about doom metal debuts of the past decade was Sincerest Misery, the first offering by Indianapolis IN's Apostle Of Solitude. Available only as import from Germany's Eyes Like Snow label, the album missed general acceptance in the North American scene because of its mailorder-only availability, but those in the know knew that it was one hell of a kick off point for this new band.
For those of you unfamiliar let me bring you up to speed somewhat: AOS front man Chuck Brown used to keep time for fellow Indy doomsters The Gates Of Slumber but when he bid that band adieu he started AOS as a means to release his own songs. It's a decision that I for one am ecstatic about, as Brown and band have now released two kick-ass slabs o' doom that need to be heard. No, not heard, they need to be consumed from start to finish as one complete piece, because these aren't simple ear candy throwaway records.
Last Sunrise is a challenging album. It's not something that will come to you first listen. It, like many of the best albums released by clear singing, true doom bands (think Solitude Aeturnus, Candlemass, Isole) is an album that needs a few solid run throughs(preferably by headphones) to fully let it sink in. That may have as much to do with the lyrical content as it does with the music itself. The lyrics aren't written in story form, they are far more ambiguous than that although most do tend to seem to be written to someone instead of at someone. Maybe veiled messages are being sent here by Brown? It's hard to say without actually speaking to the band about their meaning, but when they include lines such as "You don't know the tortures of the damned/How I long to be with you in hell I am" it implies that they are indeed directed towards a certain someone or a group of people. Dungeons and Dragons fantasy bullshit this is not, although there's nothing wrong with that in the right context too.
Another thing that needs to be mentioned about Last Sunrise is the variation in its instrumentation. Unlike most doom bands, AoS shows some distinct differences in what they are willing to put into their music. Take the album's sixth track, "December Drives Me To Tears", as an example. The song steers clearly away from the bludgeoning heaviness that most doom is known for. The guitars are partially clean, especially on the track's first half, which features some beautiful piano playing which underlines the song's verses and makes it one of the album's absolute standout tracks. I don't know if the band would consider touring with some kind of piano just to play this song live, but I would love to hear them tear this one off in concert.
With Last Sunrise being the first AoS album to be released domestically in North America, Profound Lore asked the band to record a few bonus tracks that were exclusive to the release on this side of the pond. The band banged off three covers, all recorded by current Gates of Slumber drummer "Iron" Bob Fouts and tacked onto the end of the album proper. The band tackle songs by The Obsessed ("Street Side"), Born Against ("Mary and Child") and the Misfits ("Astro Zombies") that again show this band isn't a one-trick pony. They do early US hardcore as well as they do doom and give one more reason why this album really is a must have. One of the best so far in 2010, hands down, doom enthusiasts need this in their collection. My only concern about it – what's with the bizarre front cover?
-Hellbound.ca
• No Arguing with Apostle of Solitude
When it comes to the kind of emotive, traditional doom in which Indianapolis, Indiana, four-piece Apostle of Solitude traffic, an album like their 2008 full-length debut, Sincerest Misery, is a hard one to top. The record was a triumph of precisely what the title suggested, and each song carried a drama with it that was neither over-the-top nor silly, but felt remarkably human and real to the listener. The guitar and vocal work of Chuck Brown (ex-The Gates of Slumber) was essential to this process; his voice in particular heralding the doom of yore with an urgency not often heard in their genre.
So if Apostle of Solitude had anything post-Sincerest Misery, it was their work cut out for them. It is, therefore, all the more satisfying to say that Last Sunrise, the band's label debut for Profound Lore, more than lives up to its predecessor on every level. From the massive, slow bleed that closes "December Drives Me to Tears" or the visceral emptiness that makes up the whole of "Letting Go of the Wheel" — a rare song that feels too short at nine minutes — Apostle of Solitude the nigh-impossible balance between progress and staying true to what's already been established as their sound. Five of the nine non-bonus cuts on Last Sunrise are over the seven-minute mark, the closing trio of "Sister Cruel," "Frontiers of Pain" (huge) and "Coldest Love" (ditto) hitting in succession following the aforementioned "December Drives Me to Tears."
But it's somehow cheap to talk about song lengths when even the shorter material, songs like "Hunter Sick Rapture" (a paltry 4:45), pack so much weight as well. Based around a traditionally NWOBHM galloping riff, the song is no less forlorn than its more spread out musical compatriots. If anything, the band sounds all the more desperate for the extra energy. The opening title track, "Last Sunrise (Requiem)" is little more than an intro, albeit one whose slow unfolding is even more of a setup for the album to come than the song itself. Perhaps Apostle of Solitude wanted to start Last Sunrise with the more straightforward, rocking material up front, because both "Acknowledging the Demon" and "Other Voices" are under four minutes. Brown and guitarist Justin Avery lead the charge, making "Acknowledging the Demon" an immediately memorable affair, but the rhythm section of drummer Corey Webb and Brent McClellan do an excellent job of grounding the songs, whether the atmosphere's oppression is coming from the outward heaviness of a given track or its naked minimalism.
The transition between "Acknowledging the Demon" and "Other Voices" is seamless and so fluid they could almost be the same song. This, as well as the progression evident in the structure and playing of the band, shows the growth Apostle of Solitude have undertaken since Sincerest Misery. For being instrumental, "Other Voices" is no less lyrical than any of its surrounding cuts, and "Letting Go of the Wheel" — my immediate favorite for the sheer wretchedness of its ambience — comes as easily out of "Other Voices" as "Other Voices" did from "Acknowledging the Demon." The flow of the album is flawless and remains so throughout.
There are varying bonus tracks depending on which release is purchased, be it double-LP vinyl (which includes everything), North American or European CD issue. The version of Last Sunrise I was given for review was the former CD, which boasts covers of The Obsessed, Born Against and Misfits, and though I might have enjoyed hearing Brown sing Celtic Frost's "Procreation of the Wicked" on the Euro version, the fidelity they show to Misfits while maintaining their own thickness of tone made "Astro Zombies" a late album highlight. "Streetside" felt appropriate, linking Apostle of Solitude right to The Obsessed's fertile doom lineage, and Born Against was a surprise choice, but also ably done. As they took on Black Sabbath's "Electric Funeral" to close out Sincerest Misery, with Last Sunrise, they seem to have just taken the idea and run with it. Kudos.
On an aesthetic level, what's perhaps most interesting about Apostle of Solitude is how uniquely American their sound is, despite being somehow universal within the genre. I don't know if it's some kind of self-determinism built into their riffs, the Indiana countryside bleeding into their sound on an unconscious level or what, but the feel is unmistakable. Perhaps it's the lack of schooling that seems evident. Apostle of Solitude — while talented musicians; please don't think I'm saying otherwise — have an immediacy in their music that sounds the way colonial portraiture was painted before there were any art schools in the country. The rawness of the emotions present and of the presentation of those emotions stands toe to toe with the songcraft, and is as much a focus of Last Sunrise as any given riff or solo.
Given the amount of quality albums that have come out so far, it's hard to believe we're only into the beginning of February, 2010, but Apostle of Solitude's second outing is perhaps foremost in an increasingly growing line of necessities this nascent decade has produced. For doom heads, it is absolutely not to be missed. And hell, for non-doom heads too. Maybe the Hoosiers can win over some converts.
-Theobelisk.net
• All of a sudden it seems that Indianapolis is proving to be quite the breeding ground for some damn good metal acts these days, with the Gates of Slumber, Coffinworm, and Sleepbringer to name a few, but when all is said and done, Apostle of Solitude might just the one Indy band that will wind up being the very best of the lot. Cut from the same cloth as the talented Gates of Slumber, this foursome specializes in doom metal of the classic variety, channeling progenitors Black Sabbath and Pentagram, as well as '80s and '90s bands such as Candlemass, the Obsessed, and Solitude Aeternus. Unlike Gates, though, Apostle of Solitude has a much better grip on song dynamics and especially vocal melodies; so much so, in fact, that it's tempting to say we haven't heard melodic vocals this strong from a new doom band since the early 1990s.
Needless to say, Last Sunrise doesn't disappoint at all. And don't let the rather questionable artwork fool you, this is doom of the epic variety, riffs crawling rather than galloping, songs often stretching past the seven minute mark. Despite the lugubrious pace there's no sense of tedium either; if Chuck Brown's exceptional lead vocals don't rope you in, the arrangements will, something best exemplified on "Hunter Sick Rapture", "Frontiers of Pain" (wait for the sudden turn towards old-fashioned d-beat hardcore), and "Coldest Love". It's not all muscle and menace, either, as there's a melancholic streak that runs through this record as well, lending "December Drives Me to Tears" a very strong Katatonia vibe. The album's strongest moment, though, is the sprawling, 16-plus minute trilogy of "Acknowledging the Demon", "Other Voices", and "Letting Go of the Wheel", in which Brown and his mates combine some gargantuan riffs with some good old heavy rock psychodrama. Appended with three bonus track covers, including a ripping rendition of the Misfits' "Astro Zombies", Last Sunrise is a must for not only doom fans, but anyone who loves traditional metal.
-Popmatters.com
• When APOSTLE OF SOLITUDE released their first demo in 2005, they have caused a stir among doom metal connoisseurs. And justifiably so, because they were able to write powerful songs. Their performance was brutally heavy and dark, yet the songs still retain memorable with well-developed melodies. Meanwhile five years have passed and fortunately the band hasn't lost nothing of its original power and talent. 'Lost Sunrise' is their second release for NSP/Eyes Like Snow and the first thing that strikes one about the new record is the fact, that APOSTLE OF SOLITUDE don't play it safe. 'Letting Go of the Wheel' is almost entirely free of powerchords in favour of an atmospheric style while 'December Drives Me To Tears' surprises with additional piano parts, offering a great contrast to the crushing guitar tone. Even the first track 'Last Sunrise (Requiem)' isn't a typical opening for an album, but more like an introduction to the menacing world of APOSTLE OF SOLITUDE. Of cause, there are also moments of hope, especially when a guitar solo breaks through the massive wall of riffs, but most of the time 'Last Sunrise' is a very oppressive album. It's almost like a relief, when the band steps on the gas as in 'Frontiers Of Pain'.
However, 'Coldest Love' is the perfect soundtrack for the next burial ceremony and sucks out the last remaining confidence of your soul. Chuck Brown's clear and expressive style of singing does justice to the desperate mood of the album and he reminds me to Jeff Shirilla (Abdullah). Despite all emotionality, the album still has bite due to its crunchy guitar sound and is significantly slower than its predecessor 'Sincerest Misery'. But it seems as if APOSTLE OF SOLITUDE felt also the need to rock their socks off, and so you'll find three additional bonus cover songs at the end of the European CD edition (Thin Lizzy – Emerald / Misfits – Where Eagles Dare / Celtic Frost – Procreation of the Wicked). The luxurious double LP set contains these three tracks as well as three more cover songs (The Obsessed – Streetside / Born Against – Mary and Child / Misfits – Astro Zombies). None of their versions is spectacular, but offers relaxation after the first nine songs. 'Last Sunrise' is a very serious and lugubrious album. I needed some time to find access to their lumbering songs, but then I was rewarded with an exceptionally heavy (not just because of the riffs) and emotionally very moving album.
-Cosmiclava.com
Reviews for "Sincerest Misery"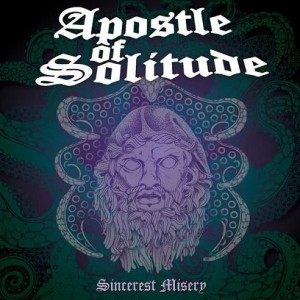 • If ever a title summed up the vibe of an album perfectly, it is 'Sincerest Misery', the title of the debut full length recording from Indiana's Apostle Of Solitude. Both words truly surmise this album's feel. It's very sincere, both in attitude and execution and it projects pure, unadulterated misery. Beginning their journey on the same well trod path taken by Reverend Bizarre, Saint Vitus before them and, of course, Black Sabbath, Apostle Of Solitude does not simply hold high the grand traditions of its forefathers, it makes these traditions sound fresh and alive. 'Sincerest Misery' is truly, deeply heavy in every sense of the word. The tones are pummeling, from the guitars to the drums. The vocals, both in melody and performance, give the impression of both sadness and anger. The harmonized, melodic guitar themes are both hair-raising and melancholic.
Choosing to stay mostly in the land of slow tempos, the band successfully conjures a 3-way marriage of melody, hatred and depression. 'A Slow Suicide' is a perfect example of this with a bombastic, ominous riff and angst-ridden, angrily melodic vocal. The title track is a 14-minute beast that will drag your helpless psyche along like clubbed, defeated prey in the hands of its conqueror… heavy and scarring. Somehow, this band even manages to take something as predictable as a Black Sabbath cover, in this case 'Electric Funeral', and breathe new despair into it by slowing the tempo to a crawl and cranking up the "epic" nature hinted at in the original. I know it's late in the game, 'Sincerest Misery' wasn't unleashed upon us until October of this year, but if this album isn't on every Traditional Doom fan's Top 10 List, I weep for the genre. Apostle Of Solitude are future legends in this field.
-Doom-metal.com
• Apostle of Solitude's full length is a heavy-as-fuck slab of doom. Featuring the drumming power of The Gates of Slumber on guitar and vocals, Apostle manage to roll out exactly 9 great, memorable doom songs with Sincerest Misery. I, personally, would put this at the top of my 2008 list of Doom Metal albums, and even near my list of 2008 releases period. Every song has a degree of catchiness, a tinge of misery, and great solos. They remain unafraid to throw back to the likes of Candlemass, with distinct touches of Pagan Altar to create wholly unique pieces touched by emotion, but retaining their epic heaviness. Instead of just relying on doomy power chords, Apostle allow for more melodic sections, and trade off between many different styles. This combinations gives the album both a uniquely Doom flavor, as well as the aftertaste of several non-traditional styles such as touches of alternative rock. As a whole, the album fits in well with more classic traditional doom and provides both great contrast and harmony with other classic albums. A must-have for any doom fan, in my opinion.
–Etherized Zine
• Doom may be the cruelest of all metal's many genres. You see, if you're for instance a thrash band, it's relatively easy to be a mediocre band. You string together some old Exodus and Slayer riffs, pull funny faces and get signed by Earache. You want to be a death metal band? Simply play Morbid Angel riffs at slightly different speeds, chuck a horror film sample or two into the mix and play three festivals a summer. Doom though? Hell, if you want to be mentioned with the big guys you've just got to be good. You have to feel it, in your bones. You can't fake it. You might be able to cock an ironic grin with thrash, or put the make up on with Black Metal, but you can't feign misery convincingly. You can't fake adoration of the sacred riff; if you try everyone will see through your façade. Doom is pure heavy metal, unfiltered by trend or fashion. Apostle of Solitude don't fake anything. This is 100% proof, intoxicating heavy metal that makes heads nod and horns rise. From Indianapolis, USA, this four piece have come to play metal in the old style, in the fashion of the old classics of the genre. I like my doom like I like my women; slow, miserable and classy. At the altar of this epic, powerful metal, the riff is king and atmosphere is the crown prince. Sincerest Misery is the debut album of this outfit, and it's really a breathtaking entry that catapults them to the top of their game, and I would place them alongside fellow Americans the Gates of Slumber, though this is much doomier and darker album than their compatriot's last release. I was frequently reminded of the atmosphere (and heavy riffing) of the much loved dormant British seminal outfit Solstice in sound. From the sprawling, epic nature of the tracks (eight minute track "Confess" is a case in point), down to the clear, soulful singing of Chuck Brown, this screams "genre classic" into your ear. From close range. Without warning. Somewhere along the line, extreme metal lost the plot, and in disposing of anything related to good, classic heavy metal, it threw the baby out with the bath water. "Sincerest Misery" traces an unbroken route from Black Sabbath through classic Judas Priest and then out via earliest Iron Maiden, while all the while retaining that slow tempo, unhurried devotion to misery and solitude. The drums are in the best traditions of classic doom; played simply but effectively, while the bass work is adept and much higher in the mix than many other modern albums. The production gives the bass a wonderful warm, analogue feel, while the guitars have more crunch than a late night teleshopping channel abdominal exerciser. The lead work, when it occurs, is ornate and neo-classical in feel, rather than relying on the tired tradition of simple blues scales, which helps reinforce the huge, epic sound of the music here. Chuck Brown has a great voice, carrying the melody and drama of these leviathan tracks. Heavier than a sledgehammer blow to the back of the cranium (witness the merciless bludgeoning four minutes in the unbelievably heavy "Last Tears" as evidence), this is a serious, jaw-dropping release. File under "essential".
-Live4metal.com
• While firmly rooted in the traditions of Doom, Apostle Of Solitude do not necessarily wear their influences on their sleeve. On their debut album, disparate elements from bands ranging from Black Sabbath and Electric Wizard to Grief and Slow Horse crop up occasionally, but AoS have smoothed over the inconsistencies to fit within a sound very much their own. Cohesiveness and dynamics are perhaps the band's greatest strengths. They're not just 'tight'; this band is founded on chemistry, each member playing off the other rather than over.
Corey Webb is a rare man who understands his drum set, never privileging just one component. He steers clear of predictability and has an uncanny knack to hit the right instrument at the right moment to accentuate the band's melodic section. His cymbal work during the bridge of "Last Tears" fuses with Brent McClellan's thunderously rumbling bassline to provide the backbone for the album's most rollickingly rifftastic number. First heard on the band's Embraced by the Black EP, it coheres through the back-and-forth giving-and-taking between the band members, with Justin Avery's and Chuck Brown's twin leads at the forefront, with every cymbal crash and thundering bass note emphasizing the emotional waves articulated by the guitar work. And this concept of complementing and stressing another member's own contribution is consistent throughout the CD whether it is the tradeoff of effects laden riff to clean lick on "The Dark Tower," to Brown's possessed screams as "Warbird" reaches its crescendo.
The album itself is organized carefully to avoid monotony. The "rockers" ("The Messenger" and the aforementioned "Last Tears") bookend what would have been a cassette's Side A, while slower meditative numbers ("Confess" and "A Slow Suicide") sandwich the first of two very different instrumentals. "The Dark Tower" revolves around a playfully brooding medieval-inspired riff that torments the listener into expecting it to break out into a full-on Doom juggernaut at the end of every bar. When the boom is eventually lowered, the change is so subtle it almost goes unnoticed until the return to the opening riff at the very end of the song. The second instrumental kicks off the second half of the album. An echoing apocalyptic ode to the disastrous Dirty Thirties, "This Dustbowl Earth" is led in by Woodie Guthrie's haunting recounting of experiences of the Dust Bowl, winding down a twangy, grimy path of truly primitive American Doom. If there was one criticism to be levied against the album it would be the mixing of this track. I applaud the intention behind this monstrous epic, but during my first few listens the execution of reconciling the differences in volume in the beginning of Guthrie's lecture and the underlying music was jarring, though even this eventually becomes a non-issue after multiple listens.
Before the Sabbath cover (a deliciously divergent take on "Electric Funeral"), AoS' original compositions end with the 14 minute title-track. And with it, the answer to what elevates this album from merely a tightly played slab of Doom to what I feel is actual flirtation with perfection comes to light. The song is a perfect précis of the commonality of the preceding 7 tracks – sincerity. The authenticity in the band's love for music is but one part of the equation which spills over into the album's premise, encapsulated in Brown's soaring tortured howls –
"And I don't care what lies you follow
Or what tales you swallow
I'm only feeling sorrow and pain"
Sincerest Misery is not an angst-ridden whinefest nor is it pseudo-macho posturing. It is a beautiful yet brutal elegy which faces, captures and reacts to the most irrationally overwhelming facets of honest human emotion aroused by the tragic truths of life – absurdity, obsession, loss – for which neither appeals to discourse nor deity can ever soften.
-metalcrypt.com
• Formed in 2004, APOSTLE OF SOLITUDE have been crafting some of the best Epic Doom Metal that you could imagine. From the moment the suitably rousing album opener 'The Messenger' first reaches its confident crushing heaviness, you are ensnared in a world of desperation, depression and fatality. But each song emerges so much strength and momentum, that there's no time to drown in self-pity. APOSTLE OF SOLITUDE have set themselves a high benchmark in terms of musicianship and songwriting ability. What is impressive is the fact that 'Sincerest Misery' demonstrates the Sabbathian essence and intensity of Doom Metal with masterly accuracy. The guitars fluctuate between colossal, epic riffs and 70's-tinged outbreaks with ease, and the vocals, while relatively clear in the delivery, sit well in the mix and compliment the music well.
Guitarist Chuck Brown's (ex- The Gates Of Slumber) expressive vocal style is the cherry on the cake here, and draw distinctions to the average bands in Doom Metal. Another positive ascpect about this album is its varity. 'This Dustbowl Earth' will confound some listeners, while the instrumental 'The Dark Tower' is reminiscent of early Black Sabbath. The title track 'Sincerest Misery (1.000 Days)' comes along with a total running of fourteen minutes, and merges all of APOSTLE OF SOLITUDE's strengths – ponderous rhythms, relentless heaviness and unsparing lyrics. I can rarely recall hearing such an delightful debut from a relatively new Doom Metal band like this one.
This album is indispensable and some day it will become a classic in the history of Doom Metal. The CD version includes a solid version of Black Sabbath's 'Electric Funeral', while the limited vinyl version include the 'Embraced By The Black' EP as a bonus. Maybe you will find one of those special 'Die-Hard' editions with additional patch and t-shirt, but no matter what you're looking for make sure that it's this awesome debut!
-Cosmiclava.com
March 2010
Hellridemusic.com
One of the heaviest records in terms of overall gravitas for 2010 will certainly be Apostle of Solitude's latest collection of recordings, Last Sunrise. You can't top Apostle of Solitude when it comes to an honest, pull-no-punches examination of life's shades here on this mortal coil. They eschew escapist fare, instead honing their knife of truth to a razor's edge, capturing suffering, lowliness, alienation and despair in ways hinted at by the great Black Sabbath and brought to a boil with bands like Black Flag and the Swans. No pretense, no bullshit. Apostle of Solitude are about plugging in and making the best music possible, as heavy as possible. It was great to go back and forth with drummer Corey Webb and get the scoop on their latest release, and below is what transpired. Happy reading and please support the band when they come to your town. Hellride Music: Hey Corey, first of all, congrats on the new record, Last Sunrise and your new label, Profound Lore. You got this out in record time, two years isn't all that long between records given that everyone in the band has jobs, families and all the considerations that go with it. Did you start from scratch in writing the new record or did you have some bits and pieces in place from your previous two efforts Embraced By The Black and Sincerest Misery?
Corey Webb: Thanks, Chris. Other than maybe a riff or two that could have been rolling around in somebody's head, everything on the new album was written post-Sincerest Misery. We started writing the songs for Last Sunrise in July 2008 immediately after we recorded Sincerest Misery. I think Sincerest Misery was released in October 2008, so yeah, about a year and a half has passed since we recorded the last album. Although I would agree that is a short time, especially since all of us have families and jobs, etc. as you mentioned, one thing we really tried not to do was rush any of the songs. I think we succeeded in that aspect, and not that any of the songs on Sincerest Misery were rushed, but I think "Sincerest Misery (1,000 Days)" was the last song we wrote for that album, and coincidentally enough it's also the last song on the album, haha. Those songs (from Sincerest Misery) weren't necessarily rushed, but we were a little close to the wire maybe in regard to tightening everything up before we went to record. For my part, there was definitely some cramming and handmade cheat-sheets / crib notes involved in that recording process, and we wanted to be sure that this time around was just a bit more relaxed. We rehearse just one day a week, so we really buckled down especially during the later part of 2009 to make sure the songs were as tight as they were going to be.
Hellride Music: Man you guys do not screw around. The fact that you hopped on writing new material before "Sincerest…" was even released and the fact that all members from the Sincerest… sessions are intact tells me that all four of you a fully onboard to seeing this band thrive. There's a lot to be said about that type of unity. Lineup stability in a band seems pert near impossible – attrition due to personal and creative differences is pretty common, but again add on the other burdens of life… injuries, families, jobs… it's remarkable that four people seem to be on the same page in attaining a common goal. So, what's the secret to keeping AoS together as one tight unit pulling together for the common goal? How do you guys work out your differences when they come up? Or is Chuck blackmailing you all into sticking around? Or vice versa? 😉


Corey: The four of us are committed to taking this as far as it can go within the constraints of each of our individual situations; those constraints really just being the amount of time we can put into this while still juggling all the other things that are important to us. While of course there's a lot to be said for bands that tour constantly and eat-sleep-breathe the band, and while we respect that level of dedication, we're just not in that position nor do I think any of us necessarily want to be at this point in our lives. I guess we're having our cake and eating it too, you know? Like I mentioned, we only rehearse one day a week which doesn't seem like a lot, but we're all adamant about getting down to business and making the most of those few hours. This can be considered a hobby, but it's obviously a lot more than that. It's most definitely a part of who we are and what we do, so it's important to each of us individually to make the most of it. The plan all along has been to ride this thing until the wheels fall off and build on each small accomplishment along the way, which probably isn't much different that a lot of bands.
Personally, each of us is coming from a different place. Not drastically different, but different in terms of interests and what we do outside the band, personal beliefs, political and world views, life experiences, and so on. I think we all realize though that none of that really matters because that one thing that we do share, which is a love for heavy music and creating something that reaches outside of our individual little worlds, is what holds it all together. Honestly the secret as you put it is probably just the fact that each of us truly enjoys this band and being a part of the collective. Everything we do is handled 100% democratically. If one of us has an idea and the other three of us aren't really feeling it, it doesn't happen. It's never personal…unless two of us like an idea and the other two don't, and in that case we wrestle for it which believe me is not something you'd care to see my friend.
Hellride Music: HA!!! Well, you guys should be proud because it's not often a band sticks together like this for this long, usually there's someone or something that rips a member asunder. Whatever the glue is that keeps you guys together … even if it's a fear of a Corey Webb chokehold placed strategically in your sweaty armpit…. it seems to work and the band should be acknowledged for that.


Last Sunrise feels darker to me than Sincerest Misery, and I didn't think that was possible. It's heavier too, I just don't think sound can get as thick and bludgeoning as it does on the ending of "December Drives Me To Tears" and especially "Frontiers of Pain". Where were your guys' collective heads at when you wrote and recorded Last…? Obviously, these are dark times… did any of what is happening currently in the world and here in the States have any residual effect on what we hear on the album?


Corey: Thanks man. I would definitely agree that Last Sunrise is a bit darker than Sincerest Misery, and heavier in its own way. I won't guess about the inspiration behind most of Chuck's lyrics, but musically I'd say inspiration for this album came from our own personal state of affairs much more so than from current events. I personally don't pay a whole lot of attention to current events or the news in general. I know that sounds a little short sighted or close minded or whatever, but stuff like that is just incredibly depressing to me. Everyone has their own personal demons to keep at bay. For us, AoS is the vehicle in which those emotions and vibes are released. I'm afraid its not much deeper than that.
Hellride Music: OK, I like that answer – take me deeper. What was going on with the band at the time? Even if the affairs are of a personal nature, how did that translate into the hulking behemoth like "Last Sunrise"? Corey, I'm telling you, some of those sounds were so heavy they brought on a vague sense of nausea. And with Chuck, it seems weird you guys don't talk about the lyrics… aren't you guys ever curious about what's going on Chuck's head? Or are you all so busy holding your part of the AoS deal down it never occurred to you all to ask? I mean, there are obviously some dark places in the crevices of the man's cerebrum… maybe you'd be afraid of the answer??


Corey: Well we definitely talk about the lyrics, and everyone gets an opportunity to weigh-in on them either via e-mail or at rehearsal. Although each of us is welcome to contribute to song lyrics and themes, Chuck is the primary writer of the lyrics, at least for this record and the last. We usually only briefly discuss song lyrics. Sort of like "this song is about addiction" or "this is about losing something that is so important to you that you never really get over it". "OK, cool that sounds great, man – let's play". Marrying lyrics to the music almost always comes last in our songwriting process. Not that lyrics necessarily play a secondary role to the music, but it's almost always something that we do after the feeling of a song has already been established with guitars and drums. I believe Chuck always has lyric ideas or potential song lyrics in notebooks and probably kicking around in his brain too, but the songs are usually based around a riff first and foremost. As the lyrics are printed in the album, I'd rather not go through each one and describe the meanings as I see them (and I'm sure that's not what you're asking, either). Generally speaking though, I think a lot of the heaviness or emotional depth that you hear in the actual music is just based on a very sincere and personal connection to individual but universal feelings of frustration, despair, hopelessness, sorrow, dread, depression, etc. Nothing really specific or unique; these are emotions that I'm sure are fairly common to some extent. Obviously good fodder for doom metal or blues though if you can harness those emotions and translate them to sound.

Hellride Music: OK cool – that gives me some good insight into how you guys write. For some reason, I thought that lyrics played more of a role in the music, maybe because Chuck sounds so friggin' convincingly sad/wounded/angry, especially on the last track before the covers where it seems like he might off himself. Let's talk about the album cover, because I'm sure that will be a hot topic of conversation among finicky and notoriously picky Doomers. You guys chose to go with a photo on this one, again it differs slightly depending on the version. The main theme is a man and a women, both with guns pointed at each other. Man, I know how that feels, good thing I don't keep guns in the house. First, tell us what motivated you guys to go that route vs commissioning album artwork?
Corey: We wanted to take a different approach for this album. Obviously the last album was purely illustration (done by my younger brother Brandon), so this time around we wanted the artwork to be more photography based. Personally I've always held an attraction to photography, specifically black and white, which I think is very effective at conveying an introspective mood and emotion. Justin is into photography as well. Kris Arnold, who took the pictures we used for the cover and on the inside of the LP and CD jacket, is a great photographer and a very good friend of ours. He's taken photos at quite a few live shows (see the inside pics from Sincerest Misery) and has even gone on the road with us a couple of times for out of town shows, so we already had that as a viable option. The specific idea behind the album cover photos is something we'd discussed before we even started work on this album, as something for a t-shirt, show poster, or cover for some future release. The initial idea back then was actually to have the couple dressed as if they'd just gotten married, but obtaining a used wedding dress that we could get dirty and take into the woods turned out to be easier said than done.
We had some discussion on the issue, and knew full well going into it that the choice in album cover artwork would not go over well with everyone. I mean, first off there's no fire, no medieval battle scene, no wizards, etc. so how can this be a metal album, let alone a doom metal album, right? The band name and album title are definitely in some non-metal font, and the couple in the photo are definitely not at a Burzum show (dude has on a striped shirt!) haha. Now don't get me wrong, wizards and fire shooting from the eye holes of a severed Viking skull are definitely cool; that's just not the route we took for this release. In all seriousness though, I'm not patronizing that type of artwork, but just illustrating the fact that we intentionally chose to stray a bit from the more typical imagery for the artwork on this release. The album cover definitely makes you think a little bit, whether you love it or hate it. Most real doom heads are fairly open minded though, and can at least appreciate the aesthetic implied by the artwork, especially after hearing the album. As you can tell by the music, we didn't completely take the safe route on that end either. It's still doom through and through, just presented in a different light with a bit more texture and depth. I guess in the end though, a cover is just the wrapping on a package, meant to loosely tie-in with the material inside, but not really what you've paid for.
Hellride: I see the connection between the cover and the material on Last Sunrise. You guys don't write escapist fare, everything that AoS writes is definitely tied to the spectrum of human emotion here on this mortal coil. I don't know that everyone gets that though. Did you all consider the financial implications of a not-so-well-received album cover taking a toll on sales? Or was it more a "sales-be-damned move, we're in it for the art" thing and the sales implications really didn't enter into the decision at all?
Corey: While we were certainly aware of the possibility of the cover art not being everyone's cup of tea (and possibly even turning some people away), that sort of thing definitely isn't something that plays a primary role in our decision-making process. Of course we want the album to do well for the labels, but when we're writing (or discussing artwork for a particular release) we aren't overly concerned with whether people will like it or not. I think we're fairly confident that people will like it, and people who are into what we did with Sincerest Misery will definitely find something appealing here. I like the new one better. And I think the cover is cool. We aren't going away anytime soon, so there's already new stuff being finished for a couple of killer split vinyl-only releases we have coming up. This newest material (for the splits) isn't totally out of left field or anything, but it's not something left over from the Sincerest Misery –or- the Last Sunrise sessions, so we're continuing to evolve within the parameters of what we do. You sort of hit the nail on the head with the "in it for the art" thing, as this is definitely something that we do 100% from the heart, and from a true devotion to creating something special. While the music is not written with commercial intentions in mind, I think there are certain aspects to the music that appeal to a broad spectrum of metal and even hard rock fans. We follow our own path, and have absolutely zero intentions of sticking to any preconceived notions of what doom metal should or should not be, which is something in and of itself that I think people can appreciate. We obviously don't have any intentions of making something that no one but ourselves will like, but like I mentioned earlier we all have day jobs so we're not depending on Apostle of Solitude to keep the lights on and put food on the table.
Hellride Music: It seems like having those day jobs serves everyone well – you guys don't have to make any concessions in terms of compromising any aspect of your releases because you don't depend on the sales for income. So it seems that maybe we're getting a truer artistic statement from the band, and there is certainly no downside in that. I commend you guys for that. The economic model for an artist to sustain him/herself has changed drastically, you guys made wise choices to have your day jobs be the primary tool of sustaining yourselves. Will you guys be hitting the road for Last Sunrise?
Corey: Yeah, we plan to go out for another short run of about 9 days or so this summer. The details for that are not yet fully arranged, other than the fact that we're doing it. It's looking like that will be sometime around the second or third week in July. We'll probably head out towards the east coast again, possibly hitting up some of the southern states this time around. We'll do a few 3-day weekend trips of the surrounding states (IL, MI, OH, KY) throughout the rest of this year as well.
Hellride Music: Good stuff, glad you guys are getting out there to play despite having jobs and families. That's got to be a tough to coordinate. Thanks for the interview Corey – anything I missed or anything you'd like to leave us with?
Corey: Thank YOU, Chris. It was nice e-conversing with you. Your interest and support is sincerely appreciated.
The above headline, "Looking Forward to Go Back," is modified and taken out of context from the last line of my recent telephone interview with Apostle of Solitude guitarist/vocalist Chuck Brown. Brown was talking about touring Europe, which is something he did as a member of The Gates of Slumber. But I think the phrase can be applied to Apostle of Solitude as a whole, what the band does, their sound and their execution. They look forward to go back.
The music on their sophomore offering, Last Sunrise — the follow-up to 2008′s stellar Sincerest Misery — is undeniably modern in structure, sound, feel and production, but there's also no question that it is traditional doom, and linked to a lineage of bands that spans decades. But, with eyes geared toward the future, they're not just rehashing old Sabbath or Trouble riffs and calling it a record. They're bringing that sound, and us as listeners, forward with them.
Brown, who is joined in Apostle of Solitude by Justin Avery (guitar), Brent McClellan (bass) and Corey Webb (drums), recently took some time out for an in-depth telephone interview to discuss the careful processes behind making Last Sunrise, and the consideration that went into the details of the album. Q&A is after the jump. Please enjoy.
Where did the title come from? Was there a story behind that?
Yeah. Not a hugely deep story behind it, just the idea, I guess, that two people are committing a lover's double suicide. As they see their last sunrise they're gonna off each other (laughs). That was the only thought behind it. Two or three songs on the record deal with tragic love themes, so it seems fitting. It's not a concept record, but there were two or three songs that have that vibe to them, so it seemed appropriate. I'd seen a movie – I forget what it's called now – maybe called The Party or something, on the Independent Film Channel, and it had this scene where it's supposed to be the last day on earth and these two complete strangers can't get to their loved ones, so they decide to off each other before the world ends. They were sitting on the rooftop, pointing their guns at each other's heads, so we spun some of that; lovers and that kind of thing. It kind of stuck from that.
Have you gotten a lot of response about the artwork?
(Laughs) We have, and most of it has not been positive. We somewhat expected it would be like, "What's that all about?" We didn't expect that people would hate it so much (laughs). I don't know whether people dislike it maybe because they think it looks cheap. I don't know. I'm not sure what it is. We really spent a lot of time thinking about it and dealing with it, and it was by no means like, "Let's do something easier." We had to have a photoshoot and think about it and have the design guy mess with it. We tried to make an attempt to do something creative and artistic and a little out of the ordinary and do something with a photograph rather than the skulls and blood and tits. We like all that stuff, don't get me wrong. There's a million albums that have that stuff that I like, but we were just trying to do something a little different. Swing and a miss, I guess (laughs). We all like it. It's one of those things. We all dug it and thought it looked really cool, but so far the response has not been that.
That's what you get for trying something different.
(Laughs) Maybe if we're ever fortunate enough to re-press it, we'll put a collage of skulls, fire, tits, swords, blood, and it'll just be a big collage. We'll make the band name completely illegible. Whatever. We dig it. Maybe it'll grow on some people.
How do you feel about the album itself? Have you gotten a chance to sit with it?
I have. Admittedly, I didn't listen to it for three weeks after recording because I was sick of it, but I'm very happy with it. I hear stuff on it that I'm like, "Man, I wish we could get this in back or this in front, I wish we tried this or that, I wish I could do that again," but the goal was, on the whole, to make a better record than Sincerest, and that's a matter of opinion, whether it's better or not, but for us, we feel like we played better, wrote better songs, and in that sense, we felt like we found a set. Yeah, I'm happy. I'll be honest, I'm ready to write some new songs and record again and try to do something even better. As a whole, yeah, I'm pretty happy with it.
Were you surprised at the reaction Sincerest Misery got?
I was, a little bit. Not that I expected anybody to hate it or anything, but I didn't think people would like it as much as they did. That's enormously flattering, it's great. Not that I expected someone to say, "This is the biggest turd," but I didn't expect anybody to say, "This is my favorite record of the year." That's really flattering, that somebody digs it as much as you do. That's pretty cool.
Other than topping Sincerest Misery, was there something different you wanted to do going into Last Sunrise?
I don't know about a stylistic thing, but we just wanted to be more creative. Sincerest Misery, everything felt more to the point, straightforward. This, I think we definitely made a conscious effort to try and get a little more creative with either the arrangements or the second guitar part, or a harmony here, or vocal harmony there, just try to put a little bit more layer to it, because the person who is into the band enough that they're going to listen to us more than once, that they can hear something new the next time and appreciate we went out of our way to do more than just write a verse/chorus/verse/chorus, then record. That's the biggest thing we tried to do a little bit differently, just try and put a little more thought behind it, try to do something that a diehard could appreciate. I hope that most people will spin it more than a couple times and let it grow on them, because I think if they do, they're gonna hear little things in there. They'll hear little differences in guitar tones. We used some different amps on different songs. Justin used a different guitar on a song here and there, so there were some things that, if you're a person who really listens to records and really gets into them, if you pay attention, they're there.
It does seem like the kind of record that the more time you spend with it, the more you hear.
Yeah. And we hope so. I really hope that some people are able to do that. And I understand some people won't, some people just aren't into that. They're into pressing play and getting satisfaction right away, and that's fine. But I hope some people will give it a chance and let it sink in a little bit.
How did the recording process go? How long were you in the studio?
We were in the studio for six days. It was down in Bloomington, Indiana, which is about an hour south of us, where IU is. We went down there, for the first three days all we did was tracking the music and the vocals, and then we went back down like a week later, two weeks maybe, and finished any solos or any vocal overdubs that needed to be done, then went to the mixing. Six days total, then we sent it off to be mastered and whatnot. That was nice. Sincerest, we only had five days, and this one we had six. I guess that was another goal, was to try and get another day out of it or a little longer to record. Hopefully it'll be a goal next time too, to spend a little more time in the studio, which is all contingent on label support and everybody's family schedules, because obviously all of us have families and things like that. Hopefully we can do that next time, maybe spend 10 days down there and get even more into the actual recording process.
Did you feel rushed with the six days?
Kind of, yeah. At least for me, I always kind of feel that way. I would love to have the opportunity the way bands on really large labels get weeks or months to sit there in the studio and just try different things. On this level of bands, for the most part, bands have written the record before they go into the studio, and they're essentially going in there and hit record and trying to do different things. On a larger scale, a lot of those bands have just the skeletons of songs and they write the record in the studio, which, I don't know if I'd want to do that for every single record, but that'd be pretty cool to be able to go into the studio and just experiment and try stuff for weeks or months or whatever, and really get into the recording process. Try different amps and mics and guitars, different song arrangements. Really write your record in the studio. That would be pretty cool. Hopefully one day we'll get there, but I won't hold my breath (laughs).
That's what the home studio is good for.
It is, you're right. That's one of the benefits of technology, at least recording-wise, affording guys the opportunity to really craft songs well and try songs out. But even with that said, you've got to know how and do them well. We've got a four-track that we write songs with, but to be able to [record] well and benefit from it. That's the nice thing about going into the studio. It's a separate environment, it's professional, and you have a third party there that's just unbiased at least in the sense of they're not in the band and have no stake in whether you succeed or fail and they're going to help you record a record and try to get good sounds. That's what's nice about going to the studio and having an engineer there that can tell you, "That sounded like shit, man" (laughs). Can't get that at home, I guess. Your wife might tell you that, but I don't know if that counts.
What's the story behind "Letting Go of the Wheel?"
"Acknowledging the Demon," "Other Voices" and "Letting Go of the Wheel" actually go together, as far as the concept. Those are all three about the same thing. It's not a concept record, per se, but those three songs belong together and when we do play out, we'll probably play those three together, because that's how they were written. They're separate, but when we practice and rehearse, those are always played together. Those are all about the same thing, which is a combo thing of – I don't know how familiar you are with Stephen King — but he had a book called Dark Half. I'll try to keep it concise, but it's a writer who writes under another name sometimes, and when he writes these books, he feels like he becomes another person and so on. In the book, the other person he writes as ends up coming to life, and so it's a combination of that and the idea of someone who's a serial killer and has this other voice in their head, this other half that takes over the wheel. We just fit those two ideas together, that someone has this dark half of them that takes control and makes them do things. That's what "Letting Go of the Wheel" is: letting this other thing take control. "Acknowledging the Demon" is acknowledging this thing exists. "Other Voices" just has that small spoken word part, and "Letting Go of the Wheel" is just the completion of this good half letting go of the wheel and here comes the bad guy (laughs).
Were those songs written as one piece of music?
When we wrote them, we knew we wanted to put three songs together. Yes, they were written together, but they had their starts and stops. They were made separate, but when we wrote them, we did "Acknowledging the Demon," and said, "Okay, now we're gonna write part two to go with it, then when that is over, we'll write this third part." They were all written together, yes, but it wasn't that it was one long song that we decided to put space in between or anything like that.
How much time went into the flow and sequence of the record?
It's funny you mention that. Yes, that was one of the other little details that we did, that we really thought about, "What should the order of the songs be?" We knew the three would stay together, but we really thought about what was appropriate, what should start it, what should finish it, what should come after what and how they should flow one into another, should there be a dead stop or should we let one cross-fade into another. Yeah, we put a lot of thought into what the song order would be and how one would or would not fade into another. And the studio affords you the idea of playing with that, because you can say, "What if we put this song in this place instead? Nah, nah, nah, keep it this way." Again, those little details that I hope people will recognize that, yeah, there was a conscious effort to start this record with "Last Sunrise" and go forth with the rest of it. We didn't consciously think, "These are the shorter songs, these are the longer ones," but we definitely wanted to make sure these songs went in this order, faded into each other this way, or dead stopped into this and stuff like that.
How about the covers? Picking the cover songs. Last time you went with "Electric Funeral" and this time you went all out with it.
Since we had two labels – part of the reason for that is we liked both labels, both are really good independent labels, and the other reasoning is we'll go all out and try and do a separate cover for Eyes Like Snow, a separate cover for Profound Lore, we'll put separate bonus tracks on each, the layout will be a little different. Hopefully you'll get copies of both and you'll see that the cover art, obviously the concept is the same, but it's a little different. The color's a little different. The actual layout is a little different. One has handwritten lyrics, one has typed lyrics. The bonus tracks are different for each one. We did that because we knew, going into the recording months ahead that, "Let's do everything we can to make each label's release unique." One of the things we had told the labels is the benefit of it is twice the promotion. It's good for everybody. It's good for us because it's twice the promotion, it's two different records and cover arts out there, and it's good for them because then if somebody wants these bonus tracks or these bonus tracks or somebody likes this cover art or that cover art, that was the whole reasoning behind it. That's why we did six bonus songs instead of just one, was to help make each label's respective release unique.
What's planned show-wise? I know you said everybody's got families, everybody's obviously got jobs. I'm not asking when does the five-month world tour start, but what do you have coming up?
In March, we're gonna be playing a show with Priestess and Bison B.C. They're coming through Indy, so we're going to play with them. That's before our CD release show, but we wanted to play with them, so we took the show, that's on the 25th or something of March. Our actual record release show, here in Indy, is on a Saturday night in April, and then in May we're playing with Black Pyramid and Let the Night Roar here in Indy, so those three are all local, then we plan on, June or July, going out for about nine days. From where we're located in Indy – we've done this before – that affords us to make a loop. We can get all the way out to the East Coast and back in those nine days, so we'll probably do something, I don't know, Chicago and Cleveland, then get over to New York City, D.C.-area and maybe Philly and Pittsburgh. It makes a nice little loop. Unfortunately, from where we're at in Indy, to get out to the West Coast, you'd need to go out for two or three weeks just because of how long it takes to get there. We would like to do that at some point, it's just we'd have to really coordinate everybody's schedules so we can be off for two or three weeks at a time instead of just the typical, short mini-tour of eight or nine days. That's the immediate plan. Those three shows that are already booked, then we'll start trying to book the summer tour in the next couple months. We've talked about it numerous times and we'd love to get over to Europe for a couple weeks, and the same applies as for the West Coast, if you're gonna go, you need to take a couple weeks. But we'd love to get over there for a couple weeks, because there's a good reception over there. I went over there with The Gates of Slumber, and that's a real different reception of how they treat you in clubs versus the US. Looking forward to going back.
-Theobelisk.net
February 2010
March 2010Stonerrock.com

Andy:  First off, let's start with the introductions.  Who is in the band, and who plays what?

Hi Andy.  I play the drums, Brent McClellan plays bass guitar, Chuck Brown sings and plays guitar, and Justin Avery plays guitar also.

Andy: Technically, we're here to talk about your new album, Last Sunrise, but let's start with a little chat about your debut.  How does it feel to have recorded and released one of the landmark doom albums in the genre, and what was it like when you first realized that you had to follow up the monster that is Sincerest Misery?

Corey:  I think the fact that Sincerest Misery was so well received actually made writing and recording this album more comfortable maybe.  Since this band's inception, I think all of us really felt that we were onto something special, and I guess to have that feeling somewhat validated by the reception that Sincerest Misery has gotten probably gave us a bit of confidence if anything.  I don't think there was any pressure really to surpass the last album or anything like that.  We just wrote what came naturally after "Sincerest".  Of course when we wrote and recorded the last album we were all totally in love with it, but we really had no idea it would be so well received.  To see it listed on top ten lists and what not was sort of like "what…really?" haha.  It feels great that people like it to the extent that they do, but like I mentioned we were already so stoked with it before it was even released, so other people liking it is really just icing on the cake.   I think we've matured as a band a bit since the last album, and become comfortable in our own skin a bit more as well so writing and recording Last Sunrise felt more natural, for me at least.

Andy: Where was the new album recorded, and with who?  How did the recording sessions go?  Was the album pretty much written going into the studio, or did you find you had some room to experiment once you got there?

Corey:  The album was recorded by Mike Bridavsky at Russian Recording in Bloomington, Indiana.  Mike also recorded Sincerest Misery, and working with him is really a pleasure, so that probably also added to the attitude we had going into this one.  Mike rules, and I must take my hat off to him for the way everything turned out.  That's Mike playing the piano during those little interludes on "December Drives Me To Tears", by the way.  I think one of us mentioned while listening to the playback of those tracks that a subtle piano part or something like that would be really cool there.  We all went to get something to eat while Mike was mixing a couple of tracks, and when we returned he was like "hey check this out, I have a surprise for you guys".  He played that piano part that he had recorded while we were gone, and we were all just floored with the atmosphere that it added to that piece.  The piano was in the huge "live" room where the drums were set up, which sounds great I think.  The recording sessions went smoothly, and we really had a good time making this album.  We did a bit of experimenting at the studio, like using different amps for different parts, and trying a few different set-ups and ideas…amp / mic placement and stuff, but the songs were 99.9% written and rehearsed long before we arrived at the studio.  We're not yet on the type of budget where we can write songs in the studio haha.  Maybe someday.

Andy: You've recorded a handful of covers for both the European and the American release.  What prompted the choice to record and release these particular songs, and what determined which ones would appear on the two respective releases?

Corey:  The bonus tracks are just songs that we dig, and thought would be fun to cover for hidden tracks on the album or whatever.  It's cool I think to hear a live song, cover song, or one-off or something like that as an extra on an album.  Working with two separate labels, we also wanted to do this to give each label a bit of something unique to include on their version of the album.  Not a lot of planning went into which covers went on which version of the album.  Each version has a Misfits cover, while the European version has the more European Celtic Frost and Thin Lizzy, and the North American has covers from US bands The Obsessed and Born Against.

Andy: There are two slightly different variations of the cover for the European and American releases as well, is that correct?  While we're on the subject, I know responses to the cover art have been kind of mixed.  Care to clear the air or comment on that at all?

Corey:  That's right, Profound Lore Records (from Canada) put out the North American version of the album, while Eyes Like Snow (from Germany) put out the European version of the album (+ LP).  Each version has exclusive artwork and of course 3 bonus songs exclusive to each version like you mentioned above.  The cover for Sincerest Misery was totally illustration, so we wanted to go with a different presentation this time around; something more realistic and human I guess.  It seems that most people so far aren't really into the covers, and we knew we'd get that to a certain extent when we chose to go down that path.  I think that with time people who like the band will warm up to the covers and hopefully "get it".  Of course it's not dragons, wizards, and fire so it's not what you'd expect from a metal album.  We stand by the covers though, and would not change them if we could.  In the end, it's just art, right?  Sometimes you feel it, and sometimes you don't.

Andy: I'm sure Solitude Aeturnus is a huge influence for you guys, but who else would you say your influences are drawn from?  I'm sure some of the bands are the usual suspects (Black Sabbath, Pentagram, etc), but are there any more subtle influences that we the listeners may not overtly pick up on?

Corey:  AoS has a very diverse and wide mix of influences.  It's hard to say what influences the music though, because we never intentionally try to write something that sounds like something else, and we rarely talk about other music during rehearsal.  None of us listen exclusively to doom metal.

Andy:  You cats are from Indianapolis, how's the music scene out there?  Obviously The Gates of Slumber are from that neck of the woods, but what other bands from that area are worth checking out?  Who do you generally like to play with when you play live there?

Corey:  The "true" scene here is really a mix of metal and hardcore punk bands, but it rules and for the most part we're all part of the same community and very loyal to and supportive of one another.  Not to be all confident and proud and whatnot, but Indianapolis rules, straight up.  Coffinworm, Deadmen, Bulletwolf, Devil To Pay, Necropharmacon, the Dockers, the Cocaine Wolves, Sleepbringer, Order of the Black Hand, Tunguska, Worldeater, You Will Die.  There is a plethora of good heavy bands from this city that rule first as dudes and friends, and secondly as bands.  I think the camaraderie that exists between most of the bands here, and the loyalty to this city, this scene, and to one another is really what sets our little scene apart from others.

Andy: Any plans for touring in support of the album?

Corey:  To a limited extent.  We're currently planning a 9-day or so trip out east, and possibly down south on the way back home for sometime in July.  We'll also do a handful of 3-day weekend trips this year in the general IN-IL-KY-MI-OH area.

Andy: I heard through the grapevine that you may be doing a split with Rituals of the Oak.  Fantastic band, I'm stoked to hear it!  Any other plans for releases this year, or in the near future?

Corey:  Man, I can't say enough good things about Rituals of the Oak.  Our Australian label-mates and a truly excellent band!  Yeah, we're doing a split with them, either a 10-inch or a 12-inch.  Each band will be recording their side of that split sometime later next month or so.  That will be put out on Eyes Like Snow.  At about the same time we're recording a song for a split 7-inch with Dawnrider (from Portugal) to be released on Blood and Iron Records sometime later this year.  After those two splits, we'll probably start getting things together for the follow-up to Last Sunrise.

Andy: You're now signed with Profound Lore in North America, how is that working out for you?  They have a pretty diverse and progressive roster, how do you feel Apostle of Solitude fits in with it?

Corey:  It's working out great.  Chris (Profound Lore founder) is such a great person to work with, and has really done a lot for us.  The Profound Lore roster is pretty diverse, so I think AoS fits in quite nicely haha.

Andy:  Eyes Like Snow is handling the European release of the album, and also the vinyl, is that correct?  They did a bang up job with the vinyl release of the debut, with the inclusion of your demo on the second LP.  What can we expect for extras on the 2xLP this time around?

Corey:  Yes, the European version of the cd and the 2XLP are on Eyes Like Snow.  They really go all out especially for their vinyl releases in terms of quality and packaging.  We opted not to do a "die hard" package this time around, but there will be a limited run of 150 copies of the LP on brown / white marbled vinyl, and 350 on clear vinyl.  Oh, and the LP will include all 6 bonus songs from both the North American and the European cd versions of the album.

Andy: What are the general plans for Apostle of Solitude's future?

Corey:  I think we're gonna keep on keeping on, man.  This band works out nicely for us in that we're not trying to "make it", and really it's just an outlet for us and a means of artistic expression.  If we can keep recording albums (preferably with someone else paying for it and distributing it), and playing live once a month or so, that's what we're going to do.  We'd like to get over to Europe for a couple of weeks, maybe sometime next summer.

Andy: If you had a a time machine, and could go back in time and see any performance, who would it be, and what year?

Corey:  I'll have to go with Iron Maiden, 1984/5 on the World Slavery tour.

Andy: Well, that's about it for today, thanks for your time, and congratulations on the release of yet another great album.  If there's anything you want to say to the Stonerrock community at large, now's the time to do it…

Corey:  Thank you Andy – it is sincerely appreciated.  Peace.