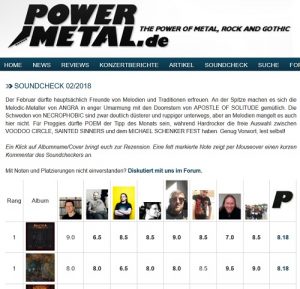 Apostle of Solitude's "From Gold to Ash" shares the top spot on Powermetal.de's February Soundcheck. You can check out the chart HERE
The site also ran a stellar review, which you can check out HERE
Powermetal's review (translated from German):
Doom close to perfection
What makes good Doom? Is it the sad melodies, the heavy riffs, the slow tempo? More recently psychedelic retro-moments are added, others swear by doom death with the deepest gurgling and even heavier riffs or the pathos of the Scandinavian epic dooms. But what characterizes a pure, purist doom album shows APOSTLE OF SOLITUDE on "From Gold To Ash" almost to perfection.
Spacious production without computer steroids or false retro sound, a brittle atmosphere and simply beautiful songs, where you feel every second the emotions that are so important for the Doom. That the men from Indianapolis can play, we already know for a long time, that they can live it also since the tour in the year 2016 likewise. All this is now combined on the new album with some of the best songs the band has ever written.
Chuck Brown and colleagues carry out all the wounds and all their suffering audibly for everyone without falling into self-pity, it goes on and on, no matter what fate may bring, suffering gives rise to beauty, to vocal or guitar melodies, to one the accentuated drumming of Corey, which was taken here wonderfully authentic continues to drive. This music can give strength, can pick you up in the darkest moments, comfort you and raise you again, because you know that you are not alone, that there is no reason to give up and all this without pathos, kitsch or platitudes.
It is this honesty that distinguishes APOSTLE OF SOLITUDE and makes "From Gold To Ash" such a strong album. Picking out individual songs here makes little sense, because weak sounds are simply not here. Hits are of course also in vain, because a hit would completely resist the spirit of this album. Instead, listen to "From Gold To Ash" in its entirety and indulge in the catharsis that this album represents. Soul hygiene of the very finest kind and on a captivating musical level, this is the album to date for the time being, to which all traditional Doom bands will have to compete.
– Raphael Päbst
more accolades for "From Gold to Ash":
"From Gold to Ash is one of the best albums that's going to come out in 2018."
– The Obelisk
"Apostle of Solitude's brand of doom practically bleeds emotion, particularly on their excellent soon-to-be-released fourth album, From Gold to Ash."
– Decibel Magazine
"A momentous doomy 7 tracks, ones filled with bitterness and aching beauty. The crushing slabs of metal, dark enough to consume the soul are lifted with the light of the vocals that deliver sorrowful & soulful melodies."
– Games, Brrraaains, & A Head-Banging Life
"Ambitious and equally aching doom. From Gold To Ash covers a wide spectrum of doom, from thundering gallops, mid-tempo bashers to reflective, melodic romps."
– Metal Nexus
"These guys tend to be gloomier than most, as their lyrics often deal with real-life struggles, as opposed to bong-smoking wizards in outer space… which only makes the music that much more impactful." (8.5/10)
– Hellbound.ca
"From Gold to Ash, just might be the band's strongest effort yet. It's easily their most emotive, and it's going to cause some major waves in the doom world."
– Indy Metal Vault
"Full of heavy guitars and melodic vocals. Such an outstanding album." (4/5)
– Baby Dolls and Razor Blades
"With great sincerity and an overwhelming ability to create beauty in a strikingly simple way, Apostle of Solitude, on this magnificent From Gold to Ash, standardizes on the sonorous razorblade of its artistic proposal all the vociferating, but exceedingly human, devices of their musical sensibility."
– Merchants of Air